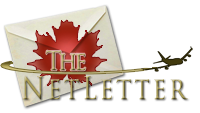 For Air Canada Retirees
(Part of the ACFamily Network)
December 7, 2014 - Issue 1312
First Issue published in October 1995

!







www.thenetletter.org

Send cheques payable to "ACFamily Network" to:

ACFamily Network
#800 - 15355 24th Ave, Suite 523
Surrey, BC V4A 2H9

Sponsors

ACFamily Airlines




Welcome to the NetLetter!




We welcome you to allow the NetLetter to be your platform, and opportunity, to relive your history while working for either

TCA, AC, CPAir, CAIL, PWA, AirBC, Wardair, etal

and share your experiences with us!




Terry Baker and the NetLetter Team



Upcoming events - Compiled by Terry Baker
Pionair's National Golf Tournament - (mark your calendars) The Pionair's National Golf Tournament will be held in Vancouver this coming year on June 16 - 17, 2015 at the Green Acres Golf Course in Richmond. Complete information will be made available in January 2015.



The Canadian Women in Aviation Canadian Conference is due at Kitchener, Ontario next year in June 2015. More details will be provided at www.cwia.ca

Air Canada News

Air Canada has best-ever quarter in 3Q in its 77-year history;

Rouge has exceeded expectations and helped Air Canada in posting a net income of C$323 million ($283 million), adjusted net income of C$457 million and an operating profit of C$526 million.

Air Canada said it will acquire two additional Boeing 777-300ERs. The added B-777s, to be delivered in the 2016 second quarter, will bring the Montreal-based airline's B-777 fleet to 25 aircraft, a mix of -300ERs and -200LRs.

Air Canada rouge is delaying planned Toronto - Honolulu service by 2 weeks, now scheduled from December 10, 2014. Previously this route was scheduled to begin from November 26, 2014. AC1823 YYZ - 1545 - 2115, HNL 763 37. AC1822 HNL - 2355 - 1410+1YYZ 763 37

Air Canada from October 27, 2014 is expanding codeshare operations in Europe, which sees AC code appearing on an additional 4 routes operated by SWISS. Planned new codeshare routes as follows; Zurich - Nuremberg, Zurich - Stuttgart, Zurich - Valencia, Zurich - Vienna

A Jazz Aviation Bombardier Q400 had what is being

referred to as a "landing incident" at Edmonton International Airport late Nov. 6, leading to four passengers being taken to a hospital.

Flight AC8481, operating as Air Canada Express, was en route from Calgary to

Grande Prairie when it was diverted to Edmonton for undisclosed reasons. Around 8:30 p.m. local time, the Q400 apparently made a rough landing at Edmonton International.

Women in Aviation - Compiled by Terry Baker
In 1990 Rosella Bjornson became the first female captain with Canadian, and, in 1997, was inducted into Canada's Aviation Hall of Fame, located at Wetaskiwin, Alberta. This is not the first time Rosella had been singled out for recognition in 1973 she was hired by TransAir in Winnipeg becoming the first female First Officer in North America, the first female to be hired by a commercial carrier in Canada, and the first female member of the Canadian Air Line Pilot's Association.

Some other notable first for women;

Eileen Vollick, born in Wiarton, Ontario 1908. Fascinated by aviation from childhood this daring young woman enrolled in a Hamilton, Ontario, flying school. On March 31,1928 she passed the federal aviation test and become the first Canadian woman to earn a private pilot's certificate.
Judy Cameron is the first woman pilot hired by Air Canada.
Deanne Brasseur and Jane Foster became the first women in the world certified to fly fighter aircraft, February 1989 at Cold Lake, Alberta. Source: The Kids Book of Canadian Firsts by Valerie Wyatt (Toronto: Kids Can Press, 2001)
More information: www.cwia.ca
Reader Submitted Photos - Compiled by Terry Baker
Reader Submitted Photos - The photos and information below have been submitted to us by our faithful readers.
Brian Walsh has sent us these photos -
The latest nice air to air's of an AC B-787 photographed October 15, 2014 from a Learjet by Brian Losito, Air Canada's official photographer, over the BC west coast. These were posted October 17, 2014 on the AC Facebook page and other sites.
Note the shadow of the Learjet used by Brian to take the photos. It's sure a good looking bird. Also attached is photo of AC B-787 on gate late night by John McManus AC YVR retiree.
Regards
Tony Walsh AC Retiree
TCA/Air Canada People Gallery - Compiled by Terry Baker
Below we have musings from the
"Between Ourselves"
and
"Horizons"
magazine, Air Canada publications from years gone by, as well as various in-house publications.
The NetLetter has been fortunate enough to have our readers donate vintage Trans-Canada Air Lines and Air Canada publications from as far back as 1941 to share with you. These have been scanned and are being prepared for presenting in a special area of the ACFamily Network for archival and genealogy research.


Issue dated - May 1979
Some items gleaned from the "
Between Ourselves
" magazines.
The Company's Board of Directors met in London, Eng.,the first time outside of Canada, and took the opportunity of touring our faculties at Heathrow Airport. During the visit they had lunch with some of the staff. Catering was provided by the Company's Flight Kitchen.

From left to right are: Finbar Quinn, Sales Manager, Birmingham; Norman Ings. Administration Service Manager. U.K. & Ireland; Fred Warwick, General Foreman, Aircraft Line Maintenance, Heathrow; Dr. Lorna Marsden, Director; Jack Morath, Baggage Service Supervisor,Heathrow ; Frank Smith Cargo Sales & Service Manager, U.K. & Ireland and Geno F. Francolini, Director.
Ground Equipment & Facilities personnel from across the system got together for their second Pre-seasonal Preparedness Seminar. Problems encountered during 1978/9 winter were identified and solutions were put in place during 1979 summer in preparation for 1979/80 winter's operations. Frank and open discussion of field problems and the ability to resolve them collectively confirmed that team work exists within the group.

Shown at the meeting are, standing from the left: Werner Grotjan, Halifax; Jean Chauret and Gerry Bourdon, Dorval; Pierre Berube and Gil Rougeau, Mirabel and Norman Moores, London, Eng.

Sitting from the left, are: Paul Collins, Toronto; Lyle Downes, Alex Soroka, Jim Todd, Frank Brennan and Dusty Miller, Dorval; Tony Hayes, Vancouver, Blair Jones, Dorval and Ed Reinsch, Calgary
The Kingston staff played host to major shippers and prospective customers to acquaint them with company products.

Shown during the reception are from the left: Jim Angus, Kingston District Manager; John Scott, District Sales Manager, Toronto; Don Denton, Sales Representative, Toronto; Mrs. V. Roberts, Jamaica Tobacco Company and Fay Bartley, Sales Representative, Kingston.


Issue dated - June 1979
Some items gleaned from the "
Between Ourselves
" magazines.
Will it fly?

Is it a bird? Is it a plane? No, it's the Florida salesmobile. Always in search of new ways to get the company message across, the Miami sales force blitzed travel agencies throughout the state. traveling in a
converted motorhome chock full of Canadian beer and hot dogs.

The 250 agents could not resist the intrepid crew, led by Florida Sales
Manager Kevin Carey, standing, left. with his feet on the ground and
aided by Sales Reps. Jim Pitts and John de Groot, right. and Carlos
Escobar on the ladder.


Alan's Space - by Alan Rust
To complement the great photos of the new 787 Dreamliner (above) we have a video taken during the open house (open hangar?) visit in Vancouver on Wednesday, November 19, 2014. The videographer did a wonderful job in showing off the interior.

The open house was well organized and a lot of fun, my wife and I attended b
ut were a bit rushed as we had an appointment to make at 15:30. So if you saw me and I just waved, that's why.
Air Canada Boeing 787 Dreamliner 3 Cabin Review
Canadi>n/CP Air/PWA, Wardair, etc. People & Events

- Compiled by Terry Baker
News and articles from days gone by gleaned from various publications from
C.A.I.L.
and its "ancestry" of contributing airlines.
Issue dated - July 1989
Items from the "
CPAir NEWS
" magazine -
1989 marked the 40th anniversary of Canadian's service to both the North and South Pacific. Flight 301, July 13th, 1949, departed Vancouver for San Francisco, Honolulu, Canton Island and Nandi, enroute to Sydney. The San Francisco stop was included because the four Merlin engines on the Canadair Four lacked the fuel efficiency to operate YVR-HNL direct.

On September 19th, of the same year, service linking Vancouver with Tokyo and Hong Kong brought the North Pacific into the airline's international system.
The first flights to the Pacific took place prior to these dates because in the early days of long distance commercial aviation "proving" or survey flights preceded the commencement of scheduled service. These flights were used to familiarize crews with approaches, conduct flight checks on routings and check alternate airfields.

The first North Pacific proving flight, April 19th, 1949, used Canadalr DC4M1 North Star, CF-TEP c/n 106, borrowed from the RCAF, as Canadian Pacific had yet to take delivery of their C-4-1 aircraft. On board the flight, which went from Vancouver to Anchorage, Shemya, Tokyo, Shanghai and Hong Kong were, from top of stairs, Captains J.K. Bud Potter, North Sawle, Craig Stevenson, Mel Lee, Mel Knox, Len Fraser, navigator Pat Roy, Captains Bob Goldie, Archie Vanhee and navigator Fred Wicker.

The aircraft was returned to RCAF and was then delivered to TCA on August 1949 and assigned fin nr 188. The aircraft was written off at North Luffenham on May 8th, 1954.


Issue dated - November 1989
Items from the "
CPAir NEWS
" magazine -
Some of Canadian's maintenance staff in Hong Kong from left: Philip Cheng, Stephen Chow, T.Mak, back: Gavin McKay, C/P.Lee.
On September 15th, 2014, these three photos were posted on the PWA web site






Reader's Feedback - Compiled by Terry Baker
Every week we ask our readers for their stories or feedback on what they have read here in previous issues. Below is the feedback we have received recently.
Bruce Harris had his memory prompted by the article in the NetLetter nr 1310, here is his comments -


Regarding the Brazil inauguration in May,1987. I was involved on the commercial side working with marketing to coordinate the schedule display, connections in our res system as well as travel agent systems. At one of the meetings the VP at the time presented all of us with the medallion. Here are some photos of the coin.
Rgds,
Bruce Harris











The article in NetLetter nr 1310 from Alan Evans has Max Lindeman to send us this memory -

The first aircraft I ever worked on was a PBY. It was in 1951 in Edmonton. Northwest Industries had the maintenance contract for the
"CANSO" (RCAF designation.) The aircraft was constructed from anodized aluminum alloy and if it got scratched it would corrode by salt water. One had to be very careful when working on them.

Max Lindeman,
Ex CP Air, Cail.

Ken Pickford refers to NetLetter nr 1310 -
Re the item on the 1949 YVR airport terminal fire. The new terminal opened in March 1950, not 1960. That 1950 terminal was expanded sometime in the mid-1950s and served until the first phase of the current terminal on the opposite side of the airport opened in 1968.

George Brien sends us this -
You likely remember the late Fred Coyle, who loved airline history, especially TCA and MCA. I just ran across some correspondence that I had with him a few years back and may be of interest to you readers.
He mentions retired Capt Alan Macleod and his dad, and also many MCA Capts from the 40's and 50's.

(Quote from Fred Coyle)
I saw in The Netletter #989 your interesting story about MCA's first flights into Saint John, along with the photographs. My airline career began with MCA. I started at YYG airport in 1949, while I was still a student at Saint Dunstan's University (now UPEI).

I knew Charlie Trainor very well and Carl Burke too, as well as H S (Junior Jones). In fact I successfully nominated Carl Burke for induction into Canada's Aviation Hall of Fame. Carl Burke gave me my first job after I graduated from SDU and I spent two years in Goose Bay working on the airlift for the PineTree Line. I left MCA and joined TCA in December 1954, in Halifax. Many times Charlie Trainor drove me to the airport for my shift as a ticket agent in the late forties and early fifties.

Just today, Saturday, September 15, 2007, I sent a book of MCA material to the Public Archives in Charlottetown. While I spent 36 years and a bit with TCA/Air Canada, the memories of my early years will never leave me and I still see MCA friends whenever I go home to PEI for a visit. I spoke to an old friend in Annapolis Royal yesterday on the phone, Bob Mills, who was a senior Captain with MCA and later with EPA.
All that is background to emphasize my interest in MCA memorabilia.
If you could scan and e-mail me any photos or stories that you have on MCA, I would be very grateful. I would then send copies of it to the Public Archives in Charlottetown, to add to the material I have already sent them. I really liked those photos of Saint John but they do not come out very clearly from the NetLetter. If I could get them directly from you along with any others and anything else you have, I would greatly appreciate it.

One of your picture stories of Saint John mentioned Don Douglas. I added a letter from Don to the book I sent to the archives today. He eventually retired in 1985 from CP Air in Vancouver as a senior B-747 Captain. He was invited to our celebration of the 50th anniversary of the founding of MCA that we held in Charlottetown in 1991, but was unable to come. His letter described some of his early experiences with MCA, learning the business of commercial flying.

Although I was still with Air Canada as Director of General Purchasing in Montreal , I was the organizer of that 1991 celebration in Charlottetown and I was the master of ceremonies for the two night celebration. I read excerpts of Don Douglas's letter the second night. In it, he mentioned HS Jones, Charlie Trainor, Garnet Godfrey, Lloyd Gibson, Bob Mills, Alec Ballantyne and others, all of whom had a hand in his early training as a pilot.

So you see, I have my early roots in the airline business with all these people you mention in your story. In fact, I worked vacation relief one year for MCA in Charlottetown, Summerside, Moncton, Fredericton, Saint John, Halifax and New Glasgow! How's that for getting around? I only missed Sydney.

If you could e-mail me whatever you have, I'd be very very grateful. I will look forward to hearing from you.

Thanks a lot and kind regards,
Fred

(We will have another letter in NetLetter nr 1313 - eds)


Odds and Ends.
Sometimes we receive articles and information that just doesn't fit in our other areas. This is where it goes!
Peter Rowlands has compiled his BC District impressions into a short memoir that has recently been published by RAPCAN's PX magazine.
With some 14 pages of mostly (old) pilot talk, The District is one orange-tailed pilot's attempt to celebrate the physical properties of the region and to capture the spirit of its operational realm. For a copy of the text, (minus magazine photos and maps), Contact This email address is being protected from spambots. You need JavaScript enabled to view it.
More than 170 children were at Disneyworld on November 4th, 2014 on behalf of Montreal's 20th annual Dreams Take Flight.

Early that morning, an Airbus 330 departed Montreal airport for Orlando with the ultimate destination being the land of Mickey and Minnie Mouse. This trip marks the last one for the 2014 season, and is the 20th anniversary of the Montreal Chapter's Dreams flight.
Betty Draper has sent an article from the Leader-Post, here we have edited the story -
Chris Brown joined Air Canada in 1973 retiring in 2004 and stopped flying entirely, allowing his qualifications to expire. Six years later he decided to take his exams and regain his ratings and, in 2012, purchased his own restored 1961 Beechcraft Bonanza light aircraft and named it "Arcadia" after a fictitious airline in a book he had penned.

He was researching the history of airlines in Canada and came across
the flight taken in 1939, so to commemorate the 75th anniversary of that first Canadian trans-continental flight he decided to emulate the route from Montreal to Vancouver solo in his Bonanza making stops in Ottawa, North Bay, Ont., Kapuskasing, Ont.,Winnipeg.

During a stop at Regina, he visited a school and talked to the children about the history of air travel hoping to instill some of the excitement of flight.
From the UK Pionairs monthly newsletter for September 2014 -
Thames Cruise report by Randy and Ingrid Pridmor

On 24th July we had a most enjoyable boat trip with the Pionairs starting from Westminster Pier to Tower Bridge. Leaving Radius Park (LHR) at 18:00, we enjoyed a leisurely bus ride to Westminster Pier where we boarded our cruise ship moored directly opposite the London Eye. It was a beautiful evening, and all the boats were out and the river was teeming with sightseers.

We then departed and picked up more passengers at County Hall. Our
journey down river was made very enjoyable with a combination of the weather, snacks on board and a running commentary pointing out the various buildings and giving the history of each. We passed landmarks such as the Oxo Tower, Shakespeare's Globe Theatre, HMS Belfast, St. Paul's Cathedral and the Tower of London on our way to Tower Bridge. We then picked up our bus for the return journey to Radius Park. A big thanks to Jack and Jane for organizing another terrific night out and also to Ali our bus driver who made driving in London seem such an easy thing to do.

Unfortunately we do not have any names here - anyone? - eds)
Terry's Trivia and Travel Tips - by Terry Baker
Terry couldn't think of anything to say this week...
Smileys - Compiled by Terry Baker
As we surf the internet and back issues of airline magazines we regularly find airline related jokes and cartoons. Below is our latest discovery.
Our cartoon is by Dave Mathias which appeared in the "Between Ourselves" issue dated April 1956.

The NetLetter is an email newsletter published (usually) every two weeks. It contains a mixture of nostalgia, current news and travel tips.

We encourage our readers to submit their stories, photos and/or comments from either days gone by or from present day experiences and trips. If we think that the rest of our readers will enjoy it, we will publish it here.

We also welcome your feedback in regard to anything we post here. Many readers have commented with additional information, names and personal memories from the photos and articles presented here.
The NetLetter, which is free, is open to anyone that wishes to subscribe but is targeted to retired employees from Air Canada, Canadian Airlines and all the other companies that were part of what Air Canada is today. Thanks for joining us!

We hope you have enjoyed this issue of the NetLetter, see you next week!
Sincerely,
Your NetLetter Team
Disclaimer:
Please note, that neither the
NetLetter
or the
ACFamily Network
necessarily endorse any of the airline related or other "deals" that we provide for our readers. We would be interested in any feedback (good or bad) when using these companies though and will report the results here. We do not (normally) receive any compensation from any companies that we post in our newsletters. If we do receive a donation or other compensation, it will be indicated as a sponsored article or link.
E&OE - (errors and omissions excepted) - The historical information as well as any other information provided here is subject to correction and may have changed over time. We do publish corrections when they are brought to our attention.
First published in October, 1995

Chief Pilot -

Terry Baker, Nanaimo, B.C.

Co-pilot -

Alan Rust, Surrey, B.C.

Flight Engineer -

Bill Rowsell, Londesboro, Ontario
To contact us, send an email to This email address is being protected from spambots. You need JavaScript enabled to view it.