1970 - Feb - The first Air Canada flights to operate the Airbus A320 began with flights AC401/404/409/454/459 and 424. (source Rampage issue Oct 1969)
1979 - fall - 18 DC-8 charters operated an airlift for refugees from Kuala Lumpur to Canada.

From "Horizons" magazine - Issued December, 1972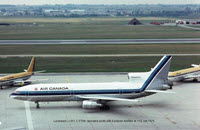 The company had arranged with Haas Turner, a U.S. investment group, to lease two Lockheed L-1011 TriStars in a contract to run 15 years. Under the agreement, the investment group will lease the two L-1011's to the Company during the summer months and to Eastern Airlines during the winter.


The agreement was the first of its kind in the industry, and provided both airlines with additional capacity during their peak traffic periods. The company took delivery of the two TriStars during May 1973 and operated them until October of that year, when they will be turned over to Eastern Airlines who will operate them November through April. This sequence was repeated for several years. Here we have a photo on C-FTNA in Eastern colours.

Extracted from "Horizons" magazine - Issue dated August, 1979

March 17, 1980 will mean much more than a wearing of the green for a Computer & Systems Services project team in Toronto. That is the date when RESERVIA. the electronic reservations system developed by C & SS for VIA Rail will become operational. In this photo we have the programming teams in Toronto.
| | |
| --- | --- |
| | Seated clockwise from the left are: Hans Peters, Terry Liew, Raymond Hui, Patrick Chau, Alan Campbell, David Kriger, Marion Heard, Judi Loat, Sylvia Hennig, Yet-Boon Cha, Ban Nguyen, Henry Li, Joyce Kubin, Adel Shoucri, Jacob Kwon, Willy Sun, Marg Smith and Bob O'Toole. |
| | Shown with Rosemary Taylor, standing, is the other part of the programming staff. Seated clockwise from the left: David Dalton, Charles Chow, Sen Cheng, Jim Wert, Raymond Lee, Michelle Walker, Betty Kipling, Bob McQuaid, Rob Buckley, Judy Hyslop, Ivan Schneiderman, Jackie Murdock, Herb Wheeler, Hrvoje Lukatela, Ted Granofsky, Bruce Castator, Kern Deorksen and Bill Tracz. |
---
Now that the excitement of the Canadian Lancaster flying in formation with the UK Lancaster has died down, we thought you may want to read about the history of the Canadian Lancaster -
Extracted from the "Horizons" magazine Issued July 1979 -

Lancaster to fly again.

Getting a 33-year.old Lancaster bomber flying again after being grounded for years is going to be a difficult and expensive proposition, but Canadian Warplane Heritage Inc. (CWH ) is ready to meet the challenge. And what a challenge it is going to be!

The Lancaster was one of 430 Lancaster's built by Victory Aircraft at Malton during the later stages of WWII and did not enter service in the RCAF until 1946. After modification in 1952, it was assigned to 107 Rescue Unit at Torbay. Newfoundland. There it continued its career until 1964 when it was one of the last four Lancaster 10(SR) aircraft to be retired from RCAF service. The Goderich, Ontario Legion purchased it to serve as a war memorial and it sat on a pedestal outside the legion branch for 14 years. Unfortunately, corrosion and vandalism had taken their toll and the legion found the aircraft's upkeep an expensive proposition. lt was purchased for $10.000 by the Sully Foundation (named after First World War pilot John Sully) and presented to the CWH organization.

The organization was formed in 1973 to collect and restore Second World War and other old aircraft with much of the work done by the group's 250 members who pay $100 a year for membership.

They soon found out what a tremendous task they were faced with when they tried to start the engines and discovered that they were time-expired. Replacing them, as well as installing new wiring, hydraulics, guns and gun turrets and other numerous bits and pieces will cost some $140,000 and the association is looking for individual and corporate benefactors.
(This story will be concluded in NetLetter nr 1317 - eds)