---
Dress code for "PWA Flghtlines" magazine issue January 1987.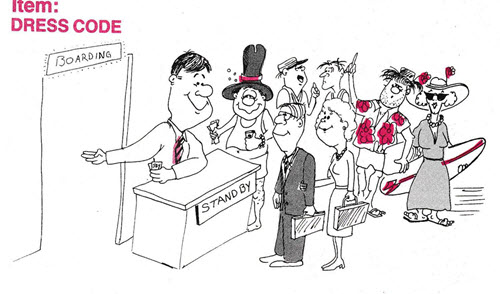 ---

The UK airline industry is uniting behind the British Air Transport Association (BATA) to call for air passenger duty (APD) to be abolished across the UK during the next Parliament.
---

Larry Milberry, Publisher, CANAV Books tells us that some new books on aviation are available and invites readers to view the following web sites for details. Find CANAV on the web at: www.canavbooks.com and www.canavbooks.wordpress.com
---

Dubai International Airport has become the world's busiest airport for international passengers overtaking London Heathrow Airport when year-end figures for Dubai were released on January 27th., 2015.

Dubai processed over 71 million passengers in 2014. These are all international passengers, as no domestic United Arab Emirates (UAE) traffic uses Dubai International. London Heathrow recorded 68.1 million international passengers for 2014, although in terms of total passenger numbers it remains ahead of Dubai International, as a further 5.3 million domestic passengers passed through its terminals. The 73.4 million passenger total was up 1.4% on 2013.

There are airports elsewhere in the world that have higher numbers of total passengers- Atlanta Hartsfield-Jackson and Beijing Capital airports - but these handle a higher proportion of domestic passengers.

Heathrow is increasingly capacity-constrained by its two runways. Successive UK governments over the past 40 years have failed to increase capacity in the crowded southeastern corner of the UK, whether by building a completely new hub or by allowing new runways to be built at Heathrow or Gatwick.