---
1990
August 1st - Flights between Toronto - Chicago were suspended due to weak market demand.

Oct 28th - Scheduled service initiated between Toronto - Mexico - Lima.

Introduction of B-747-400 service between Vancouver - Honolulu.

Nov 1st - Daily service between Montreal - Paris inaugurated.
1991
Jan 1st - Toronto - London UK Dayliner/Starliner discontinued
---
Gleaned from the "Info Canadi>n" magazine Issue dated July 1990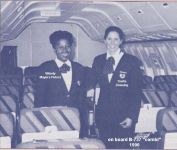 Working combis
Flight attendant Wendy Mayers Peters, left and customer service director Yvette Downing, both of Halifax, enjoy the unique opportunity of working B737 "combi" flight, which carry passengers in the back of the plane and several cargo pallets in front. The dual service role of the aircraft plays an important role in Atlantic Canada.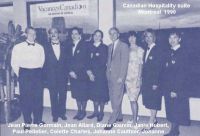 Canadian Airlines was a major sponsor and official carrier of the 11th annual Montreal Jazz Festival June 29 to July 8th, 1990.


Estimates have 900,000 jazz fans attending. An employee night was hosted on July 8th for the many employees attending the festival. A hospitality suite was in operation, and here is a photo of those who were involved from the Canadian Airline hospitality suite.
From left; Jean Pierre Germain, Jean Allard, Diane Gauvin and Janie Hubert; Montreal flight attendants, Paul Pelletier; Vice President Quebec and Atlantic Canada; Colette Charles, Executive Secretary; and Johanne Cauthier and Johanne Denylo, also Montreal flight attendants.
---
Gleaned from the "Info Canadi>n" magazine Issue dated November 1990
Canadian helped deliver three containers of some thirst-quenching Canada Dry to the Canadian armed force's base in Dubai Qatar.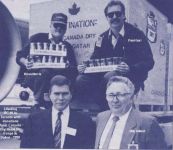 Loading the DC-10 in Toronto were, top left: Brian Norris; lead station attendant, and Paul Gorr; senior lead station attendant. Standing left, George Kuhn; president of Danzas Canada, and Bob Gilbert; Cargo Sales.
Canadian, in co-operation with Canada Dry and Danzas Canada, transported the special cargo along with patio umbrellas and cookers as far as London, Eng|and, to provide a taste of home for the Canadian troops, who have dubbed their desert home "Canada Dry'', (the nickname also has something to do with the local laws and customs concerning alcohol). The night before, Maintenance carried out work on the aircraft including changing the auxiliary power unit, washing the aircraft and having it serviceable ahead of schedule.
This was the first DC-10 maintenance to be done at the Convair Drive facility.