1997
March 3rd - New service between Calgary - Los Angeles commenced.

April 9th




- Started new service between Vancouver - Dallas/Ft. Worth.




- Toronto - Dallas/Ft. Worth service inaugurated.

May 5th




- Started service between Calgary - Chicago.




- Service between Vancouver and Washington cancelled.




- Vancouver - Boston new service started.
Found in the "CPAir News" magazine issued October 1983.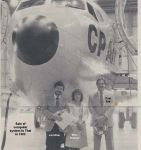 A Computer Services team which developed some new software for Pegasus has sold the program to Thai Airways.
The software allows up to 10 classes of service for any given flight to be shown in a computerized reservations system.
Involved in building the program and making the sale, (in the photo) are Mary Simpson, computer project manager; Jim Miller and Rudi Epp, computer programmers. Also involved were Steve Cheng, manager operations CP Air Holidays West, Marje Thorpe, schedule change manager and Gail Hayman, computer project leader.
---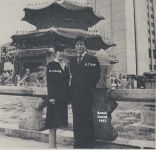 AT YOUR SERVICE in Korea are K. J. Hong, left, CTO supervisor; and K. T. Suh, sales rep for Korea, who both work out of the capital of Seoul. CP Air has had its own staffers in Korea for the past 20 years, working from the offices of a general sales agent contracted by the airline.
Traffic from Seoul joined CP Air flights in Tokyo and consists principally of business travelers, migrants and ship's crews. Mrs. Hong celebrated her 15th anniversary in 1983 as a CP Air employee. The alter in the background was built in 1898 by King Gojong, 26th king of the YI dynasty. The Chosun Hotel is to the right.
---
Selected from "Info Canadian" magazine issued August 1991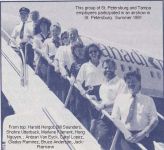 The Florida airshow
A group of St. Petersburg and Tampa employees recently participated in a Canadian Airlines B767 display and Canadian Holidays booth at an air show in St. Petersburg, which was a major year round charter destination.
The group included, from top, Harold Hergot, Captain B767; Bill Saunders, station manager, Tampa and St. Petersburg; Shohre Utterback, Airports supervisor; Marlene Flament, customer service agent; Hong Nguyen, customer service agent; Antoan Van Eyck, customer service agent; Carol Lopez, Canadian Holidays destination rep; Gladys Ramirez, customer service agent; Bruce Anderson, Airports supervisor; and Jack Raimann, customer service agent.
---
Betty Draper sent us this article dated January 6th, 1936 -
To get blind flying.
Edmonton, Jan 6, All Canadian Airways Limited pilots in the western section will receive instruction in blind flying to enable them to qualify for the new commercial transport license of the federal government, highest ratings for aviation in Canada. C.H."Punch" Dickins, superintendent of northern aviation for the company, announced Saturday.