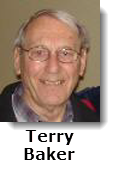 Terry Baker, co-founder of the NetLetter scours the internet for aviation related Trivia and Travel Tips for you, our readers, to peruse.
Faced with declining revenues and a lack of passengers during the global COVID-10 pandemic, some cruise lines are taking an unpopular but necessary step: Selling off older vessels for scrap.
On July 10, 2020. Carnival Corporation stated that 13 ships would be sold off and removed from service. Carnival further announced July 23, 2020 that two Fantasy Class ships had been sold, and another two were placed in long-term layup with no plans to rejoin the fleet.
---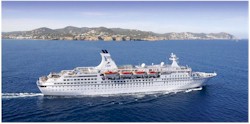 Sadly, Astor was sold for just $1.7 million at auction, and was beached in Turkey on November 24, 2020 for scrapping.
---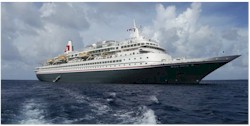 With the ship Black Watch being retired from the Fred. Olsen fleet, the future for this 49-year old vessel looks increasingly uncertain.
---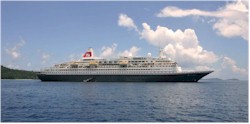 After being retired from the Fred. Olsen fleet, it is unlikely that the 47-year-old Boudicca will embark on further cruises for any line.
---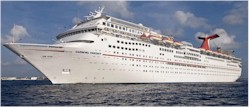 Carnival confirmed on July 23, 2020 that the ship had been sold, and the ship arrived in Aliaga, Turkey shortly thereafter for scrapping.
By late-August, the first cuts were being made to Carnival Fantasy's bow.
---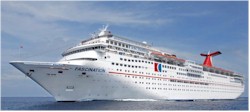 On July 23, 2020 Carnival announced that Carnival Fascination, along with Carnival Imagination, would be withdrawn from service and placed in long-term layup. It is unlikely the ship will rejoin the fleet.
Carnival Fascination continues to languish dockside in Cadiz, Spain, where it has been moored since July 2020.
---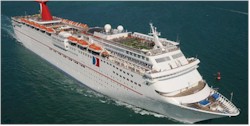 Carnival Cruise Lines announced July 23 that the 1995-built Carnival Imagination would be placed in long-term layup, with no immediate plans for it to re-enter the fleet.
On August 26, the ship officially embarked on its last journey, sailing from Willemstad, Curacao, to Aliaga, Turkey, where it will be broken up.
---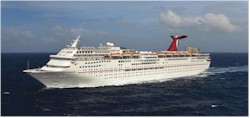 Based out of Long Beach, Carnival Inspiration was docked alongside Carnival Fantasy in Curacao in July, 2020 where fittings were removed.
The ship arrived in early August at Aliaga, Turkey and was beached alongside sister Carnival Fantasy and former competitor Sovereign.
---
On December 16, 2020, Royal Caribbean announced Empress of the Seas had been sold to interests in Asia-Pacific. What happens to the ship after that remains to be seen.
The Carnival Cruise Line Grand Celebration had been sold. As of November 24, the ship is enroute to Bhavnagar, India, where it will arrive in early January, 2021 for demolition.
Princess Cruises' Crown Princess was sold for just under $12 million, and was beached at Alang, India for scrapping on November 30, 2020.
Royal Caribbean's Majesty of the Seas was sold to undisclosed interests in Asia-Pacific, Majesty's future remains uncertain. Its sisters, Sovereign and Monarch were scrapped earlier 2020 this year.
Source: www.cruisecritic.com/news/5423