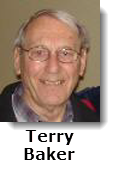 The conclusion of my secondment to Antigua, started in NetLetter nr 1318 & 1319 -
During my final month, I had a call from the United Nations in New York, the group that called me were into placing computer equipment into small emerging nations and the software supplied was to do various surveys of land, population and crops etc for the government and, after suitable demos to the local government, the equipment and software was donated, set up and training provided, and then they were on their own.
I was asked if the LIAT unit could be used for a demonstration, and I agreed. When the one person from the UN arrived, he asked if I could conduct the demo to the local government officials. He was unable to do the demo as his partner had gone sick. Fortunately everything had turned out OK.
Later over a beer in the local bar, the UN guy asked me if I was interested in such a job, the territory being the Caribbean and South America - such a temptation, but being a family man I had to decline. I passed him the name of one of my co-workers who I knew had applied previously for a job with the UN. This co-worker was contacted and he ended up working for the UN in Rwanda in South Africa and then Vienna.
The upshot of my job there was that LIAT asked me if I could 'drop in' later on the make sure everything was working OK and to trouble shoot if necessary. I agreed and got a tele every January for the next 7 years inviting me down. Each time LIAT supplied transport on BWIA, a car and hotel plus some 'beer money' and I would spend 3 weeks there helping out and generally discussing projects.
During one such visit, British Airways were powering up their reservations system for LIAT, together with TV and radio coverage. I was nosing around with David Attale when I heard someone call out 'Is Mr Baker here?', the LIAT rep said 'Over here'. I had lights shining on me, and a mike thrust into my face and I was asked questions about the new system being implemented - I stammered and spluttered until I was rescued. It seems that there was a Baker from BA in charge and they had the wrong one - my only claim to fame on the TV!
I have lost touch with LIAT etal, but one day, when I do a Caribbean cruise I may take in Antigua just for old time sake.
Terry Baker.