Najam Jafri sends this information regarding the identification of the airline in NetLetter #1440 -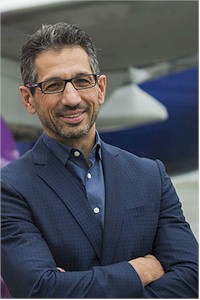 Alaska Airlines' President is Ben Minicucci, former Director of Heavy Maintenance at Air Canada at Montreal during the late nineties.
Editor's note: Minicucci came to Alaska Airlines from Air Canada, following 14 years with the Canadian Armed Forces, where he managed all aspects of military aircraft maintenance and participated in several key deployments, including the 1991 Persian Gulf War.
Minicucci's first job with Air Canada involved coaching management teams on progressive leadership styles.
He was later promoted to Vice President of Heavy Maintenance and Base Manager of Operations in Montreal, Calgary, Winnipeg and Vancouver.
He holds Bachelor's and Master's degrees in mechanical engineering from the Royal Military College of Canada.
(Source: crunchbase.com/person/ben-minicucci#section-overview)
Click the image to view Mr. Minicucci's profile at Alaska Airlines.