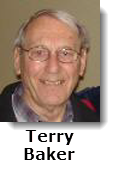 Metro Transit operates its MetroX service from downtown to Halifax Stanfield International airport. The #320 bus operates every 30 minutes during peak morning (6 am to 9 am) and afternoon (3 pm to 6 pm) times.
The regular schedule departs every 60 minutes. Fares are $3.50 for adults and $2.75 for seniors. Passenger baggage is allowed on the MetroX, however, please review their baggage policy for specifics.
---
Be aware of the seating plans when traveling on the DH8-300 aircraft.
Recently we were in seats 13 and, on boarding traipsed to the back of the aircraft knowing how the row numbers increase BUT on that particular aircraft seats 13 was up the front, so we had to squirm our way back against the flow of boarding passengers who evidently knew where their seats were located.
On the return DH8-300 flight we were again located in seat 13 and, on boarding was surprised to find that row 13 was really at the back of the aircraft. The flight attendant kindly let us sit in row 1 instead of having to go to the back of the aircraft.
---
Our International Maple Leaf Lounge in LHR Terminal 2 was selected as the winner of the First Class Lounge design category in the Aviation Sector of the International Yacht and Aviation Awards