It was called the Avro Jetliner and it was North America's very first passenger jet.
Designed to meet the requirements of the old Trans-Canada Air Lines, now Air Canada, which requested a 36-seat passenger jet to travel at 425 miles an hour with refuelling range of 500 miles, the Avro Jetliner project began in 1946 at A.V. Roe Canada in Malton, Ont.
Jet engines were still fairly a new concept after the Second World War, but a prototype soon took flight in Toronto on Aug. 10, 1949 after some runway construction delays. This prevented the Jetliner from becoming the world's first flying passenger jet, a title grabbed by de Havilland when the company launched its Comet in Britain just 13 days before the Jetliner.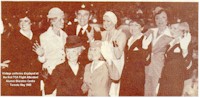 Mike Barbetta sent us a copy of "Altitude '80" issued June 1980.
We extracted this article -
TCA Reunion huge success.
More than 1200 turned out at the Sheraton Centre in Toronto on the weekend of May 23-25 for the first TCA Flight Attendant Alumni Reunion. Amid the nostalgia and the memories, the decision was unanimous... FANTASTIC! !
Weekend highlights included a lunch and fashion show and a Saturday evening Dinner dance, complete with an entertaining revue of the ''good old days'' presented by a troupe of volunteer performers. The TCA reunion was the brainchild of retired Flight Attendant Gretchen Marsh, who was aided by Helen McEwan, friend, neighbour, and still active Flight Attendant. Because of the TCA story, this issue of "Altitude" was sent to all Alumni members courtesy of In-Flight Service.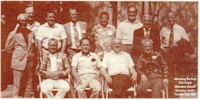 Flight Attendants past and present reunite. L-R (standing): Barry Kerr - Regional Catering & Commissary Manager, U.S. Region, unidentifled former F/A, John Jonker - former F/A YUL, Doug Robinson - DC-9 Captain, David Thompson - FSD, YVR, Tom Mills - Route Operations Manager, YYZ, Rudy Saretzky - retired F/A. YVR, John Pasche - In-Charge F/A, YYZ; seated: Gord Kay - FSD, YYZ, Ken Day - Manager, IFS Base, YVR, Ross St. John - Manager, IFS Base, YYC, Frank St. Hilaire – retired Supervisor, YUL.
Gleaned from the "Between Ourselves" magazine.
Issued July 1942 –

The story by Frank Sayer entitled "Incredible inaugurations" –
As those engaged in the operation of airlines are painfully aware, sometimes the weather gods are not propitious. And they seem to take a particularly keen delight in balling up the works for inaugural flights. Yet here the writer makes his obeisance and knocks on wood for he would not have them be the least suspicious of any impiety on his part.
Nevertheless, the sad story of that Moncton inaugural flights begins on February 11th,1940. when a party of newspapermen, myself included, gathered at the local airport for a projected round trip to Montreal that was to anticipate by four days the opening of regular passenger service between the two points.
The flight was inevitably cancelled. Reason? Weather.
Next came the extensions to Halifax and Charlottetown both scheduled for April 15,1941. The Charlottetown flight got as far as Summerside, landed there and came back to Moncton. The Halifax flight returned without landing.
Reason? Weather.
In the two instances the Premiers of Nova Scotia and Prince Edward Island were on the runways at Dartmouth and at Charlottetown waiting for the planes to arrive; while on board the Halifax trip were the President and Secretary of the Halifax Board of Trade, who, after being rolled interminably about in the fog were returned to earth and sent forward again this time by taxi. The cab blew two tires and our guests arrived home with the dawn.

(The story will conclude in NetLetter nr 1323 – eds)