The 48th AGM of the World Airlines Clubs Association (WACA) celebration is being held in Ho Chi Minh City October 18th - 23rd 2015.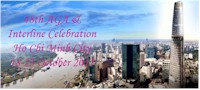 For interested parties, please register with Mr. Keith Miller at WACA headquarters at This email address is being protected from spambots. You need JavaScript enabled to view it.. For additional information about the tour, please contact any member of the WACA Council at This email address is being protected from spambots. You need JavaScript enabled to view it.
Registration deadline August 18th 2015.
There are exciting pre and post tours available with registration deadline July 23rd 2015. Full details at www.waca.org
---
After a great deal of time and effort, it is with regret that the Vancouver Interline Club has found it necessary to cancel the Great Circle Trip 2015 due to insufficient registrations at the deadline date.
---
Complete information about Air Canada's Travel Partner policy can be found on the Employee Travel Site under News & Policies > Eligible Passengers > Travel Partner. We encourage all employees and retirees to consult Air Canada policies prior to traveling.
---
Working with airline members of IATA and aircraft manufacturers, an optimum size guideline for carry-on bags has been agreed that will make the best use of cabin storage space. A size of 55 x 35 x 20 cm (or 21.5 x 13.5 x 7.5 inches) means that theoretically everyone should have a chance to store their carry-on bags on board aircraft of 120 seats or larger. Air Canada has no plans to change its carry-on baggage allowances or dimensions.
Nonetheless, Air Canada supports the general concept of harmonizing carry on requirements across the industry as it will make it easier for customers, particularly those connecting between different airlines.