Airbus A320
The A320 is quite possibly the most controversial fleet to ever enter service with Air Canada. Lost amid the allegations, inquiries and lawsuits is the fact that the aircraft has been a reliable performer for the past 25 years. The end of this era is now in sight with deliveries of the B737 MAX scheduled to begin 2017.
In retrospect, the acquisition of this fleet has proven to have been a sound business decision as the A320 is far more fuel efficient with a much improved turn around time over the B727 fleet that it replaced. Fourty-two aircraft of the combined Air Canada and C.A.I.L. fleets remain in service today including Fin# 201 delivered to AC in January 1990 and Fin# 401 delivered to C.A.I.L. in April 1991. Note: A319 and A321 fleets are not included in this count.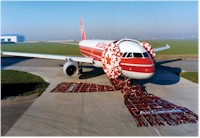 There is, however, a mystery that remains concerning the delivery of Fin # 201. Pictured here is the aircraft all decked out with earmuffs and a scarf as a symbolic welcome to Canada. The last time I saw those earmuffs was soon after the aircraft was deployed on scheduled service. I had been given task of storing them inside a double wide cargo container commonly referred to as an "Igloo". They were made of heavy plastic and wiring and a Forklift was required to initially load them into the container followed by a lot of nip and tuck (and a some battering) before I could do up the straps to keep them in there. Does anyone know whatever happened to them? How would they look on a B737 MAX?