Following the information on the A310 in NetLetter nr 1309 by David Varnes in "Readers Feedback",
Ken Pickford sends this to complete the information -
Re: The Wardair A310s mentioned by David Varnes (there were 12, not 8, as you corrected further down), they were acquired by Canadian Airlines as part of their takeover of Wardair in 1989 (not 1985). Even Canadian didn't exist in 1985.
At least 8 of the ex-Wardair A310s are still in service today (7 in Canada), including the five acquired by the Canadian Armed Forces (now RCAF again). Those are designated CC-150 Polaris by the RCAF. Another two are currently with Air Transat after a variety of other operators. One has been part of the French Air Force transport/VIP fleet since 2001 after several other operators. Another was recently (as of 2013) with a charter/leasing operator in Jordan. Not sure whether it's still flying. One was scrapped in 2009 after service with half a dozen carriers, most recently in Russia. Sadly, one crashed in July 1992 after two years with Thai International Airways. It hit a mountain on approach to Kathmandu, Nepal on a flight from Bangkok, killing all 113 aboard.
(The rest of the information Ken has gathered will be in NetLetter nr 1325 – eds)
---
Ken Murphy refers to this photo in NetLetter nr 1322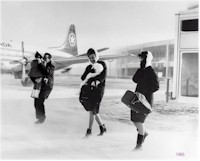 Regarding the winter photo of YYZ in 1965 with passengers heading to aircraft, the location is T1 YYZ, probably the Gate 60 finger. It is on the north side of T1, you can see the concrete retaining wall around the approach road into the terminal, and the signage for parking or terminal. That tunnel ran between finger 1 and 6.
Ken Murphy
Michelle Daines shares this information –
I am the flight attendant that became Deputy Mayor of Montreal after my car accident in the parking lot at Dorval left me without a job. I have since done so much but all of it is because Air Canada taught me to love people, the public, those that put the food on my table. I met so many wonderful people for 20 years and have endless gratitude to Air Canada.
Air Canada also allowed me to film on board for my charity for children that I formed and ran for 6 years. I have nothing but love for the Air Canada Family and when I fly on my passes I see many changes but still feel the same. It is still the best job I ever had.
Thank You/Merci "Discipline is the bridge between goals and accomplishment"
Michelle Daines, B.Sc.
---
Carol Vickers sends us this enquiry – can anyone help?
Regarding the Women in Aviation article of Britt Marie Ferst in NetLetter 1322, I see she obtained her balloon licence and was first officer on the Air Canada balloon during its inaugural flight.
Might she or anyone know what became of our balloon?
Carol Vickers
---
Denise J.Pemberton refers to the article "Incredible inaugurations" by Frank Sayer in NetLetter nr 1323 and shares this memory.
I was reading the last letter and went through articles about Newfoundland and it brought back a funny memory I'd like to share.
I was flying as stewardess on the Vanguard back in the late 60s and, if I'm not mistaken, it was the "milk run"...510-515 into St. John's. At the airport cafeteria, we all sat down for a breakfast and the Captain ordered his with "brown toast". Well, the toast came back being white bread that was toasted, and the Captain said he had asked for brown toast. The waitress replied, "any browner than that, and it'll be burnt"!
Best wishes, Denise J.Pemberton