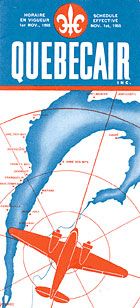 Early Quebecair timetable found on the internet. (Pictured)
---
PWA Corporation sold two A310 Airbus aircraft to the Department of National Defense. One delivered November and one in December 1992 and the third in March 1993.
Total cost was $150 million.
---
Following the lead by Air Canada who implemented a cash bar for domestic economy passengers August 1st 1992, Canadian implemented a cash bar on September 1st, 1992. Complementary bar service continued to be available in business, international and charter flights for both airlines.
Biking for Britain.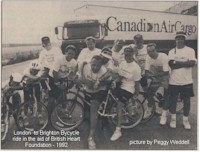 Cargo employees from London and Canada braved the famous London to Brighton Bicycle ride in the aid of British Heart Foundation. The group raised L2,100. Biking on the seven and a half hour bum-numbing ride was,
from the left: Jamie Comport, Tim Stevens, Phil Gooders, Tim Hitchins, Simon Allsop, Mark Bowles John Auchie (Calgary), Paul Norris, Audrey Hollamby , Richard Ovenden, Peter Comport and Hugh Montgomery (Calgary). Missing was cargo agent Tiffany Smitz, who also traveled from Calgary.
(Perhaps Tiffany is still cycling - lost! - eds)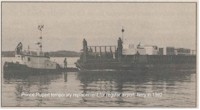 What was Canadian Airlines' most northern island in the Pacific? It was YPR of course - that's Prince Rupert, a deep sea port 800 kilometers northwest of Vancouver B.C. served since 1947 writes Herb Pond, Station Manager, Prince Rupert.
Not only is the city on an island, but the airport is on another island, with no road link. Passengers check-in at Canadian's downtown facilities which were located in a shopping centre. About a half hour before aircraft departure, the staff and passengers boarded a bus which, along with baggage and cargo carts, were loaded onto the local airport ferry. When the ferry broke down, a tug/barge combination kept the operation going.
In 1947, the service was provided by war surplus Canso Bombers before the runways were constructed in 1967, so the amphibious capability made them perfect for the job.