Lockheed L1011 - 500
Although the L-1011 TriStar had been a part of the Air Canada fleet since 1973 the addition of the – 500 series in 1981 was a turning point. Fins 551 through 556 had much greater range than the TriStar at 5120 Statute Miles (8240 k.) which allowed the introduction of non-stop transcontinental service between western Canada and Europe, specifically YVR – LHR which is still a very busy route today and is now serviced by the B777 High Density configuration.
I don't recall the specific fin# but I do remember working midnight shift in Toronto while one of L–1011–500 aircraft was modified for the return of His Holiness Pope John Paul II to the Vatican after his tour of Canada in September 1984. Sleeping quarters were installed in the J-class cabin and the maintenance check was so thorough that every wheel assembly on the aircraft was changed as a precaution.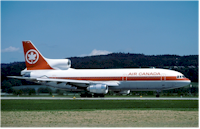 The era of service for this fleet was relatively short spanning 1981 to early 1992 when they were sold to Delta Airlines. I gathered information from Airfleets.net to track them down to their present resting places.
Fins 551, 553, & 556 remained in service with Delta until 2000 and are now stored at Victorville, California.
Fin 552 was acquired by YES Air Charter of Portugal and continued service until 2006 when it was stored and later scrapped in Lisbon.
Fin 554 was acquired by Hewa Bora Airways of the Democratic Republic of the Congo and has been stored at Kinshasa since 2007.
Fin 555 was bought by Wells Fargo Bank in 2004 but the trail ends there. It is not known if it is still operating today.