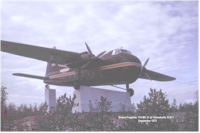 The plaque for this monument reads: "Bristol Freighter 170 MK 31 – This aircraft was donated by Wardair Canada Ltd. as a monument to commemorate the work done by this type of air freighter in developing Northern Canada by servicing trading posts, schools, mining properties, oil exploration crews, and un-named Arctic islands".
This particular aircraft was retired from active service early in 1968 after making history on May 6, 1967, when, piloted by Captain Don Braun, it was the first wheel equipped aircraft to land at the North Pole."
Neil Burton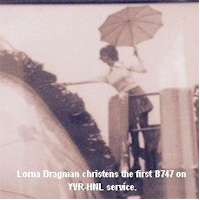 Hi from another retiree who enjoys your publication.
Here's another Reader submitted photo. Maybe you can find the original photo and possibly obtain more details about it. This is just an iPhone shot of a framed photo.
I started with Pacific Western but used to car pool from North Vancouver to Richmond with my friend Lorna Dragman. Lorna worked at the YVR CP OPs Centre in Computer Services. I have always liked this photo she has on her wall.
The occasion was CP's first 747 to travel YVR/HNL (the Empress of Honolulu) Hence the lei on the nose and Lorna with her champagne bottle. Lorna doesn't remember why she was chosen for the promo shot. I think it might have had something to do with the way those legs of hers held up that mini-skirt. Maybe the guy who operated the lift and had ducked down out of camera range remembers??
Beryl Oborne
---
Cora Thomson sends this to correct the information in NetLetter nr 1325 "Photos submitted" -
Thank you so much for including the CPA stewardess luncheon pictures in the Netletter. I may have mixed the photo's but the names were reversed on the two of them. The names on the first photo were of those on the second and visa versa. A great letter and so interesting. I enjoy reading each issue.
Cora Thomson
(With apologies for the mix up- eds)