---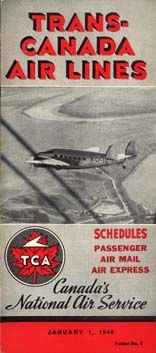 1940 January timetable from the private collection of Bjorn Larsson.
---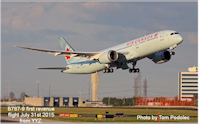 2015 - July 27th - First Boeing B787-900 Dreamliner C-FNOE fin nr 31 delivered. First revenue flight was AC424 YYZ-YUL July 31st and then AC429 YUL-YYZ was the return flight.
---
Found in the "Between Ourselves" magazine issue - December 1959

---
A new slate of officers and executive committee for 1959 has been elected for the TCA Recreation Association (TCARA) in Sidney.
Newly elected were Gerald Hawley, President; Lloyd Doyle, VP; Kevin Earl MacKenzie, Treasurer. Executive committee is made up of Elmen MacCormack, Leonard Morrison, Ivan Melanson, Donald MacAdam, Ken MacDonald, and Gerry MacKeigan. There was no photo available.
---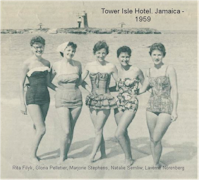 Five stenos from different stations in the TCA system got together for this photo during their vacation at the Tower Isle Hotel, Jamaica. From the left: Rita Filyk, Gloria Pelletier, Marjorie Stephens, Natalie Semliw and Laverne Norenberg.
---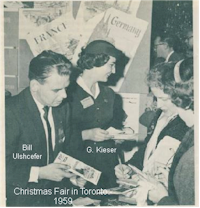 Flooded with requests for information about travel between Germany and Canada, Bill Ulshcefer, Sales Representative and Stewardess G. Kieser answer questions during the Christmas Fair in Toronto. Over 16,000 people attended during the six day event.
---
Drafted from the "Horizons" magazine issue dated October 1979

---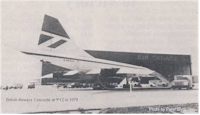 No, It's not a new addition to the company fleet but a photo by Peter Blyth of the British Airways Concorde being serviced at the Air Canada Malton hangar. Employees had the opportunity to inspect the supersonic jet during its shot visit to the Canadian National Exhibition.
Air Canada Pionairs were granted Letters Patent dated April 24th, 1979 making it an incorporated body.
---
Time is on their side.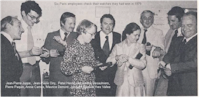 At the beginning of the long tone the time will be exactly... as six Paris employees synchronize the new watches they won in the "We need you" contest sponsored by the Cargo branch earlier in 1979 for personnel throughout the system. Shown in the photo are, from the left: Jean-Pierre Juppe, Jean-Pierre Oiry, Peter Herold, Jacqueline Desaulniers, Pierre Paquin, Annie Camus, Maurice Demont, Jacques Masson and Yves Vallee.