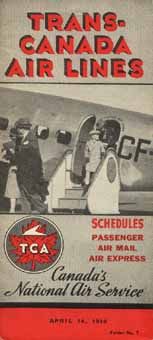 1940 - April timetable from the private collection of David Zekria.
---
1979 - Sept 17th - DC-9 fin 720 CF-TLU c/n 47196 was enroute from Boston to Yarmouth and Halifax when the rear pressure bulkhead failed and it lost its tail cone over the Atlantic. The aircraft, under the command of Captain G.D.Gill landed safely.
All 43 of the DC-9 fleet were immediately checked and two aircraft were found to have cracks of a minor nature and not considered critical in the same area and were withdrawn from service until they were repaired satisfactorily.
---
Gleaned from the "Horizons" magazine
Issue dated November 1979.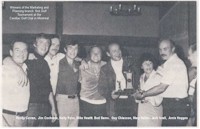 In 1979 the Marketing and Planning branch held its first Golf Tournament at the Candiac Golf Club in Montreal. The Scheduling group won the branch trophy for lowest average net score. Guy Chiasson, V.P. Passenger Planning & Marketing pictured center in the photo, presented the trophy to the winning team of, from the Ieft, Randy Corran, Jim Cochrane, Holly Ross, Mike Hewitt. Bud Sams. Guy Chiasson, Mary Sellier, Jack Israll and Arnie Heggen.
---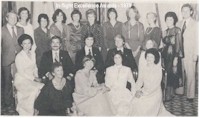 In-Flight Service presented its first Awards of Excellence to the following cabin crew employees.
Shown back row from the left are: Hans Mandt, Ute Mltchell, Isabel Rose, Jeanne Kerr, Maxine Belim, Louise Paul, Anne Meadows, Gudrun Papesch, Deborah Hall, Atsito Fujita and Hans Marchand.
Middle row: Lillian Kyle, Hans Ottinger. Kevin O'Connor, Robert Zimmerliand and Veronica Kuziomko.
Front row: Anne MacBeath, Linda Tanner, Helen Elsen and Llnda Meckling. Absent : Ursula Edwards and Anne Marie Emi.
---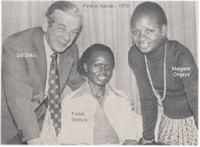 The company had a new face in Nairobi heading up its operations in East Africa. Fridah Shiroya was appointed Sales Manager for the area encompassing Kenya, Uganda, Tanzania, Sudan, Zarnbia. Somalia, Rwanda, Burundi. Eihiopia. Mauritius and the Seychelles. She replaced Sid Dirks who opted for early retirement and took up the position of Managing Director of Air Kenya. Fridah was the first local person from Nairobi to be appointed as a regional-African inter-national airline. Fridah, seated is seen being congratulated by Sid and Margaret Ongaya, Sales Assistant.
---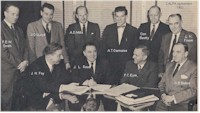 A NEW COLLECTIVE AGREEMENT on wages and working conditions was reached between the Company and the Canadian Air Line Pilots' Association. The agreement provided for pay increases for pilots flying present aircraft as well as for the Vanguards and DC-8's.
Shown signing the agreement is Captain J. H. Foy. President of CALPA; J. L. Rood, Director of Flight Operations; F.C.Eyre, Ass't Director, Industrial Relations and G.E.Bolton, Director Personnel.
Standing, from left: Captains F.E.W.Smith, J.G.LLoyd, A.D.Mills, A.T.Garmaise, legal council to CALPA; Captain Don Beatty and J" K. Fraser, Ass't. to the Director of Flight Operations.
---
Kenneth Swartz sends this url information of the Old TCA treasure trove from the web site of Henry Tenby.