Boeing B-767
The introduction of the B-787 fleet this year brings back memories of the Boeing B-767 introduction back in 1982. Has there ever been a fleet to enter service amid more controversy?
The B-767 was developed utilizing 'Computer-aided design' emphasizing fuel-efficiency and the ability to fly at higher altitudes. A computerized 'Flight Management System' was incorporated for navigation eliminating the need for a third pilot as flight engineer.
Airlines and the public alike had concerns regarding the safety of operating a twin engine wide-body aircraft with only a two person crew across the Atlantic. We had not yet learned to trust the 'new' technology that is today common on all commercial aircraft.
Fears may have culminated with the "Gimli Glider' incident on July 23, 1983, however, the heroism of the flight crew prevented any loss of life and, in retrospect, led to much improved maintenance procedures and international regulations that may be saving lives. The history of 'Fin 604' has been well documented (see Alan's Space from NL # 1326) so there is no need to explore it here.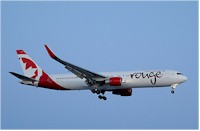 In fact, the B-767 has had a long and distinguished career of service to both Air Canada and (formerly) C.A.I.L that continues today. In particular, C-FCAB (Fin 631), C-FCAE (Fin 632), C-FCAF (Fin 633) and C-FCAG (Fin 634) were the first four of the -300ER series delivered to C.A.I.L. in the spring of 1988 and all remain in service today (renumbered 681, 682, 683 & 684 respectively) after 25 years and over 120,000 total flying hours each.
The B-767 fleet is now being gradually transferred to 'rouge' with new cabin configurations, exterior paint job and the addition of winglets. The fleet remains critical to future expansion of new routes within the Air Canada network.
Your comments and personal insights are always appreciated.