Acronyms, Abbreviations & AOG's -

Today it seems that new words derived from acronyms and abbreviations seem to be routinely added to our vocabulary. To the chagrin of language purists and articulate people everywhere, "words" such as Mpeg, PDF, XLS, iPad, App, DVD and (remember) FAX are overheard frequently in conversation and cross over several languages.
However, those of us in the airline industry have been speaking in acronyms during our entire careers. Many of the which (particularly the most colourful ones) have been inherited from the military, of course.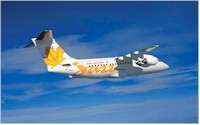 Aircraft (BA-146) (pictured), Airlines (AC), Airports (DFW), Instruments (VSI) , Auxiliary Power Unit (APU), Airline operations (MOC), Associations (IATA) and Reservations (PNR) are just a few of the contexts where acronyms are commonly used. A detailed list can be found at GOFIR (Global Operations Flight Information Resource).

A very common acronym in the maintenance world is "AOG" which means Aircraft On Ground. My first assignment on my first day with Air Canada in Toronto Purchasing and Supply was to "jump in" with the "AOG" driver. At first I wondered what kind of vehicle an "AOG" was. I spent the next few hours in a van driven by what seemed like a Madman while he picked up and delivered parts from incoming flights required by aircraft maintenance. He explained to me that (in our context) "AOG" was the highest shipping priority and critical to the airline operation. It must be noted that the majority of parts shipped in this manner are not for actually grounded aircraft but for planned maintenance work throughout the day or overnight. However, when an aircraft is genuinely "AOG" the situation is handled by a full team of professionals.