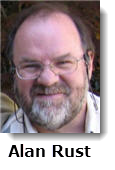 More Airlines Turn To UAVs For Aircraft Inspection
Using an unmanned aircraft to inspect an airliner would have been unthinkable just a few years ago. Now low-cost carrier EasyJet plans to deploy what it calls "drones" or unmanned aerial vehicles (UAV) at 10 maintenance bases across Europe by the end of 2016, to help inspect its Airbus A320s for hail and lightning-strike damage.
The developers of the system to be used by EasyJet, U.K. companies Blue Bear Systems Research and Createc, are now working with Thomas Cook Airlines to inspect larger Airbus A330s. They have a vision of a future in which a UAV is launched every time an airliner reaches a gate to continuously monitor entire fleets for damage.
Blue Bear and sensor specialist Createc began working on using unmanned aircraft systems (UAS) to inspect U.K. nuclear facilities for contamination. "We were doing indoor complex environment inspection work for the nuclear industry, which has a lot of similarities to the work we are now doing for aircraft," says Gavin Goudie, Blue Bear director of operations.


For full article follow this link.