BAe -146
I have always liked the sleek design of the British Aerospace 146 (BAe 146) now known as Avro RJ. Air Nova and Air BC each operated five of these aircraft that became a part of the Air Canada Jazz fleet upon the merger of those two regional airlines and Air Ontario into Air Canada Regional.
Terry mentioned that they did not really catch on with commercial airlines although Wikipedia says that they are the most successful British civil jet airliner program with 387 produced. I only had the opportunity to fly on one once, from Whitehorse to Vancouver, and was quite impressed by how quiet it was in flight. However, it seems that they have had some success when converted for firefighting service. I have tracked two of them down that may still be operated in that capacity today.
C-FBAO (Pictured) was originally delivered to Air BC in January 1989 and then transferred to Jazz until withdrawn from service in March 2005 and stored in Halifax. Planespotters.net shows it delivered to Minden Air as N446MA in January 2009 and converted to a Water Bomber configuration.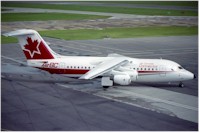 C-GRNT was originally delivered to Air Nova on December 7, 1989 and followed the same course as C-FBAO. However, Planespotters.net shows it delivered to Air Spray in May 2015 and used fighting forest fires in on the west coast of North America.

Anyone have more personal insight on this fleet? Looking forward to reading your feedback.