1960 - April 2nd - Inaugural "Atlantic Special" service Halifax - London UK. On board were the four Premiers from the Atlantic Provinces.
---
Extracted from the "Altitude" magazine issued March 1989
Some of the new Flight Attendants that graduated during the summer of 1989.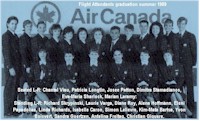 Seated LR: Chantal Viau, (instructor); Patricia Longtin, Josee Patton, Dimitra Stamadianos, Eva-Maria Sharlock, Marian Laramy, (instructor).

Standing L-R: Richard Skrypinski, Laurie Varga, Diane Roy, Alena Hoffmann, Eleni Papadolias, Linda Richards, Isabelle Caron, Simon Lelievre, Kim-Mata Bartsa, Yvon Boisvert, Sandra Goertzen, Antelina Freitag, Christian Giguere.
---
From the "Between Ourselves" magazine issue dated March 1960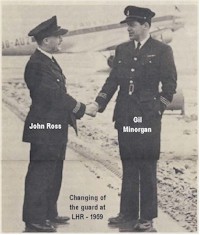 Twelve Years Ago this month Gil Minorgan (right) turned over the duties of Station Operations Manager at London Airport (LHR) to John (Jack) Ross (Ieft).
In December, 1959 the situation was reversed when Ross turned over the same job to Minorgan, who had been Station Operations Manager in Bermuda during that time. Ross had recently been appointed Assistant Director of Passenger Service in Montreal
---
Issue Dated April 1960
Ed Thackray, editor, wrote is thoughts on this DC-8 flight, here is our edited version.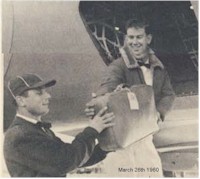 Never have I gone so fast or so high, as I did on March 26th! That was the day that Survey Flight No. 26 flew from Montreal to Vancouver in exactly five hours. Aboard the Company's new DC-8 were 107 passengers that included President G. R. McGregor, 80 employees, 18 Members of' Parliament from Ottawa and eight representatives from Douglas Aircraft Company, Rolls-Royce, the Department of Transport and Imperial Oil Limited.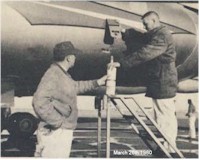 Guiding the "S6,000,000 Giant'' to its destination were Vice-President Herb W. Seagrim, Captain George B. Lothian. Superintendent of Flying, Captain Herb Hopson, Technical Assistant and Captain J. W. Reid, Check Pilot.
The only time there was any real noise is on take-off when the pilot locks his wheel brakes, runs up the turbines to take-off power, unlocks his brakes and the aircraft barrels down the runway. At 135 mph he pulls off the ground and points the plane's nose skywards.
To the embarrassment of the B.C. passengers who were telling those aboard about the virtues of Vancouver weather, we arrived in "liquid sunshine" with heavy overcast skies.
Next morning, after a delay of three hours due to freezing rain in Calgary, we left Vancouver and arrived over Calgary's McCall Field fifty-nine minutes later. After several courtesy flights, we left for Montreal arriving there three hours and two minutes later. In exactly 38 hours and 20 minutes we had traveled across six provinces twice and the DC-8 covered 7,000 miles.

(Anyone recognize the employees in these two photos – eds)
The signatures of the 81 employees, 18 members of Parliament, and eight Douglas, Rolls Royce, DOT and Imperial Oil representatives who were passengers aboard the record-breaking DC 8 Survey Flight from Montreal to Vancouver are shown in the menu served in the First Class Cabin during the flight.
(Anyone have any memories to share with us of this event – eds)