B787 - The Dreamliner
I have just returned to YVR after visiting YUL (Ile. Perrot, Quebec actually) to spend my Mom's 88th birthday with her. Apparently, the NetLetter has quite a following on this beautiful island west of Montreal where many current and retired AC people live.
This was a great opportunity to get my first ride on a B787 so I registered to return via YYZ on Flight 149. This fleet, in effect, is replacing the B767 (see NL # 1328) and enters service amid similar controversy because it is also a game changer in the airline industry.
Referred to as "The Dreamliner" by Boeing, it has been nicknamed "Precious" by AC Maintenance personnel due to the enhanced focus the company is placing on the fleet.
Personally, I agree that the focus is justified as this aircraft will play a major role in significant expansion of the Air Canada network. Direct routes to Dubai and Delhi have already started with many more destinations to come. This could possibly be the beginning of the largest era of international expansion that the company has ever seen.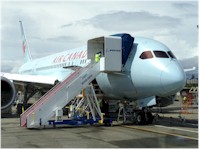 I would not consider this to be the sleekest aircraft on the exterior (the large fuselage gives somewhat a "Beluga" impression), however, the interior is awesome. Mood lighting throughout all cabins, windows that tint electronically, larger overhead bins and an overall spacious feel make it a very comfortable ride. I was seated in a middle seat in economy and still thoroughly enjoyed the flight.
More than thirty years after its controversial introduction, the B767 has a very distinguished legacy that continues today. It will be very interesting to see what the future holds for the B787. Pictured is Fin# 801 being prepared at Boeing for its first flight "Home".
Note: to view Air Canada's website dedicated to the 787 Dreamliner visit: www.787.aircanada.com