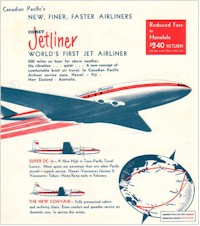 Advert for the De Havilland Comet September 1st 1952 (pictured).
1993 - August 18th - PWA board rejected Air Canada ca $200 million offer for international routes etc.
---
Found in the "Info Canadia>n" Magazine issued dated September 1993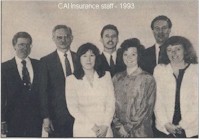 The Insurance department includes, from left, Walter Brown, risk specialist, Larry Weisgarber, director, Barb Robbins, clerk, Steve Anderson, analyst, Nicole Bolstad, receptionist, Gord Wainwright, manager, and Susan Taylor, clerk.
---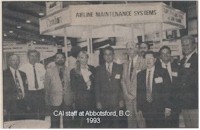 At the Abbotsford Airshow in 1993 were, from left, Dick Hobbis, John Holt, Les Golding, Anne Hutton, John Pineo, Lorne Paterson, Dennis Millette, David Huang, John Benum and David Boyd. Missing was Catharine Covey, Connie Fujino, and Ron Gerroir.

(Note: the heading in the magazine had a misprint showing Abbotsford as Abbortsford we took the liberty of correcting this in our article - eds)
---
Japan meets Canada via B-767 -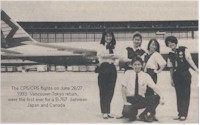 The CP5/CP6 flights on June 26/27, 1993 Vancouver-Tokyo return, were the first ever for a B-767 between Japan and Canada. (it was a one-time only substitution for a DC-10 that needed repairs - the only other time a Canadian B-767 has operated on the Pacific was the Prime Minister's charter in 1991).
The flight departed with 83 per cent passenger load factor and 6,500 kgs of cargo. Customer service agents in Narita here seeing the aircraft off were, from left, Nana Yoshino, Madoka Yamanouchi, Yumiko Mizuhara, Mari Kajiwara and kneeling, Hiroyuki Fukui.