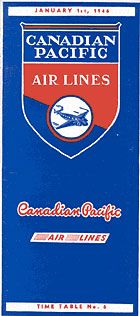 1946 January - Canadian Pacific Air Lines Timetable. (Pictured)
1994
- April 7th - Final issue of "Info Canadi>n" magazine, initial issue of the replacement was May 5th.
- June 1st - Daily service between Toronto(YYZ) and London (LHR) commenced.
---
Found in the "Info Canadi>n" magazine issue dated April 1994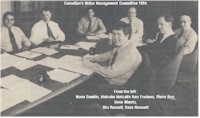 Our photo is of Canadian's Noise Management Committee 1994 trying to tone down the volume of noise-related issues.

From the left: Norm Dawkin, Malcolm Metcalfe, Ken Fredeen, Pierre Roy, Gene Nimetz, Stu Russell, Dave Honnett.
---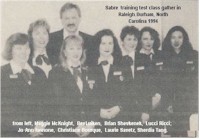 Far flung members of Airports' Sabre training test class gathered in Raleigh.Durham, North Carolina for some first-hand Sabre experience.
Pictured here, from Ieft, are CSA Maggie McKnight of Lethbridge; Calgarians BevLuiken and Brian Shevkenek, both CSAs; CSA Lucci Ricci from Vancouver; Torontonian Jo Ann Iannone, CSA: Christiane Bourque, a CSA from the Magdalen lslands: CSA Laurie Savetz, also from Vancouver; and CSA Sherdia Tang from Hong Kong.
---
Located in the "Contact" magazine issued January 2000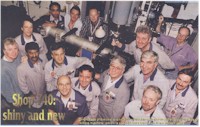 During November 1999, Maintenance and Engineering launched Shop 740 a new machine shop at the east end of Vancouver Ops Centre providing a 2,500 square feet which was 30% larger than the satellite shop it replaced. The shop's 20 employees provided input for the design.

Here's a photo of the Shop 740's employees. (unfortunately no names were provided.- eds)
Note: I canvassed a few of my colleagues at the Ops Centre and received the following responses. Herman Yee, Maintenance Manager, said "Subba was there - at MTU now" and "Wow, that is old… I see Gerry Dziech and the gang. A few are working at MTU, the rest I believe are retired"
Tony Metzler and Dick Teranishi recognized Frank Perry as "the guy wearing the ramp pass behind the guy in front wearing blue coveralls."
Thanks to Herman, Tony and Dick for their assistance, Wayne