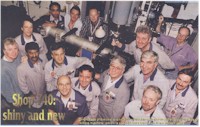 During November 1999, Maintenance and Engineering launched Shop 740 a new machine shop at the east end of Vancouver Ops Centre providing a 2,500 square feet which was 30% larger than the satellite shop it replaced. The shop's 20 employees provided input for the design.

Here's a photo of the Shop 740's employees. (unfortunately no names were provided.- eds)
Note: I canvassed a few of my colleagues at the Ops Centre and received the following responses. Herman Yee, Maintenance Manager, said "Subba was there - at MTU now" and "Wow, that is old… I see Gerry Dziech and the gang. A few are working at MTU, the rest I believe are retired"
Tony Metzler and Dick Teranishi recognized Frank Perry as "the guy wearing the ramp pass behind the guy in front wearing blue coveralls."
Thanks to Herman, Tony and Dick for their assistance, Wayne