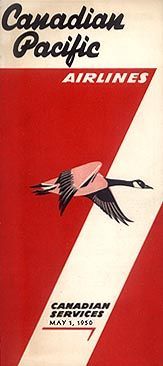 1950 - May 1st - Canadian Pacific Airlines timetable.
Found in the "Info Canadi>n" magazine issued May 1995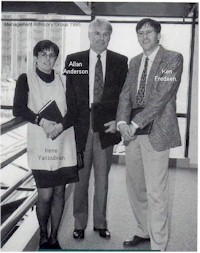 Management Advisory Group formed in 1994 was an elected group of 18 employees who represented all management and non-organized employees below the officer level. Elections would be every two years.
Representatives from the left: Irene Yacoubian, Allan Anderson and Ken Fredeen.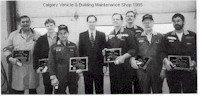 Calgary Vehicle & Building Maintenance Shop - a team of employees perform work in house which would have otherwise been contracted out.
From the left: Dale Provo, Harry Wriss, Vern Adams, Kevin Jenkins, Robert Luce, Don Bumah, Jack Croude and Gerry Stoddart.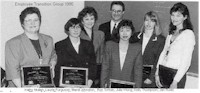 Employment Transition Committee who faced the challenge of providing effective services to AMR impacted employees without incurring any additional costs, organising UIC seminars, counseling, financial and computer courses to assist employees to improve their skills or conduct their job search.
From the left: Kathy Mullen, Laurie Furguson, Mardi Johnston, Ron Toffolo, Julie Wong, Kelly Thompson and Jan Rudd. Missing committee members were Mary Martin, Anne Davidson and Karen MacDonald.