A New Career Begins
I decided to retire while recovering from (successful) back surgery in the Spring of 2015. I had reached the thirty-five-year milestone and still enjoyed my job and the company of my colleagues but I was tired of checking my work schedule to plan my life. I want to indulge myself in the pastimes that I enjoy such as working on web sites and travelling to Cribbage tournaments as well as seeing more of our planet.
So I chose to work out the rest of the year and begin 2016 as a retiree. I attended an I.A.M. Retirement Seminar in early December and left with my decision reinforced. The company and our pension plan are in excellent shape; the time is right. However, I still wondered how I was going to react my last day as an active employee.
As it happened, my last full working days were Christmas and Boxing Day of 2015, followed by four days off with the last official day being New Year's Eve. The usual ceremony of cake and coffee had been prepared and I was asked to be there for 13:00. I arrived at the Ops Centre early (as usual) and did something that I had been doing subconsciously for years; I slipped a lanyard with my R.A.I.C. pass and key card over my head.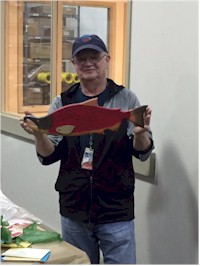 Inside I was greeted by warm smiles, handshakes, hugs, congratulations and thoughtful gifts (including a "fishy" looking Cribbage board - see photo). So now I knew how it felt. No sadness, no regrets, only precious memories of the wonderful people I have been so lucky to work with. Thanks to everyone.

As I pulled the lanyard over my head to hand in the attached cards and then slipped the now empty lanyard into my pocket; I felt like a puppy let loose in the off-leash park for the first time.
I am looking forward to my retirement career. I do not miss the past but I hope that we can make history new again and celebrate our past together.
Thanks to Alan and Terry for the opportunity to do so via the NetLetter and thanks to all our readers for your kind attention and feedback. It's a pleasure to meet you and begin many new friendships.