Help wanted-
Marc Herpers is searching for the whereabouts of George McBurnie, a former CP Air & Canadian Airlines Employee. "George and I where good friends in the 80ies and 90ies. He visited our family in the Netherlands, as i visited him twice as he was then living in Ladner BC. Sadly we lost contact over the years. By searching the web I crossed your page and saw his name! I would be more than happy if you can help me out with any kind of information!"
Thank you in advance. This email address is being protected from spambots. You need JavaScript enabled to view it.

(Should anyone have a contact for George, you may send it direct to Marc – eds)
---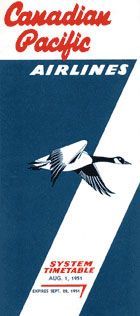 1951 - August - Timetable Canadian Pacific Airlines from the private collection of Bjorn Larsson.

1967 - January 30th - CP Air inaugural service between Vancouver and San Francisco.

1995 - October 29th - Service Vancouver - Reno - Las Vegas commenced.

1995 - November 3rd - Service Vancouver - Kuala Lumpur in partnership with Malaysia Airlines.
---
Found in the "Canadian Pacific Airlines Newsletter" magazine issue dated October 1963.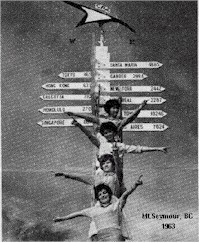 Competing with the CPA emblem on aerial "mile zero" post overlooking Vancouver on Mt. Seymour are four headquarter girls representing CPA destinations.
From the top: Lorraine Tanaka (Japan), Deanne Wong (Hong Kong), Margaret Heywood, an Australian, and Marietta Ramaer, Dutch.
The sign was erected by the North Shore Tourist Bureau with CPA participation.
(Does anyone know if this weathercock still exists? - eds)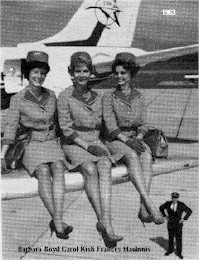 Widespread publicity for CPA resulted from this photo of three stewardesses on a DC-8 wingtip. All are former beauty queens. From the left: Barbara Boyd, finalist for Miss Calgary Stampede; Carol Kish, Miss Pacific National Exhibition, and Frances MacInnis, Miss Winnipeg.
Oh, and that's Bob Schumacher far below.
---
Issue dated July 1963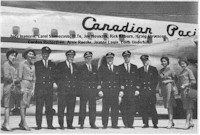 A new trans-pacific record from Vancouver to Tokyo of eight hours 28 minutes was established on July 3rd, 1963 by Captain Craig Stevenson and his crew in DC-8 fin 603. It eclipsed the previous record set by Captain Cec McNeal in January. The record breaking crew departing for Vancouver are...
from the left: Judy Inamasu, Carol Shimozawa, W.Tu replacing Frank Ling at Hong Kong, Navigator Joe Nowazek, First Officer Rick Kilburn, Captain Craig Stevenson, Second Officer Gordon Richardson, Purser Arnie Roeske, Joanne Louie (trainee stewardess) and Edith Underhill.