A signal-jamming system to deter unwanted drone flights was unveiled this week at the Consumer Electronics Show in Las Vegas. Developed by Airbus Defense and Space, the Smart Responsive Jamming Technology can disable signals between a drone and its operator or, in some cases, jam its navigation.
---
Sent in by Betty Draper - From the "Winnipeg Free Press" Tuesday, July 12th, 1938
Washington, July 12,1938. (AP) — The United States state department has arranged for Howard Hughes to land at three places in the Soviet Union — Moscow, Omsk and Yakutsk.
Canada granted permission for a landing at either Edmonton or Winnipeg. The headline on "Winnipeg Free Press" July 14th 1938 was "Plane approaching Winnipeg".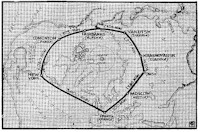 As nearly a thousand persons gathered at Stevenson airport around 6 o'clock Thursday morning, Howard Hughes and his daring crew were winging their way somewhere between Regina and Winnipeg. Their expected arrival shortly- before 5 a.m., was believed delayed by inclement weather conditions. Attempts to contact the ship by radio proved unsuccessful. Waiting with watches on hand were Cliff Kaake and Harry Nicholl, official clockers of the "Winnipeg Flying Club", and W. Lawson, secretary of the airport. At 2 a.m. the resources of the Imperial Oil Company, Winnipeg, went into action and two huge tank-wagons of gasoline, containing more than 1,700 gallons were rushed up. There were two kinds of gasoline, 450 gallons of the potent, 100-octane gas, used for take-offs, and more than 1,200 gallons of 87-octane gas a highly refined cruising fuel, used only by Trans-Canada Air Lines planes in Canada.
Howard Hughes finally reported in with a direct short wave radio broadcast to his flight headquarters here at 3.00 a.m. (E.D.T.) today, Thursday, that the plane was 975 miles out of Fairbanks and flying at an altitude of 14,500 feet. The plane was heading directly for Winnipeg.
An amateur radio station at Hermosa Beach, Calif., reported to flight headquarters it contacted the plane and that one of the crew members said lightning had been observed in the vicinity. The message indicated the fliers were leaving British Columbia and crossing into Alberta. It was sent in code because electrical disturbances temporarily forced discontinuance of direct voice broadcasts.
At 6 o'clock, scores of cars were flocking to the airfield from all directions. The field was roped off and Chief of Police Garside and his staff were on hand to see that order was maintained. The plane was expected to land in Winnipeg within half an hour at the time of going to press.
(You can view/download a Popular Mechanics article about this flight at: www.jitterbuzz.com/manreal/hughes_rtw.pdf)
(Unfortunately, Howard Hughes elected to bypass Winnipeg and flew on to New York - eds)