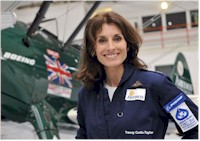 A British woman completed a 20-day solo flight from England to Australia in a Stearman on New Year's Day, commemorating a flight made by Amy Johnson in 1930. Tracey Curtis-Taylor, 53, landed at Darwin to complete the 8,000-mile trip, which began October 1, 2015.
"I'm feeling just a bit windblown, sunburnt and a bit punch drunk," Curtis-Taylor told media after she touched down. "This is where Amy Johnson touched down in 1930, so Darwin was the big moment for her. Amy was a 20th-century icon in terms for what she achieved. My flight is very much a tribute to her. It is celebrating what the pioneers achieved and what women now achieve in aviation."

Curtis-Taylor flew through 23 countries on her way to Australia, loosely retracing the route of Johnson. Although she used GPS on the trip, the Stearman was equipped pretty much as it was when it rolled off Boeing's assembly line in 1942. Johnson flew a Gipsy Moth on her flight. She flew numerous other record-breaking flights during the 1930's until the Second World War started. Johnson became a ferry pilot and was killed in 1941 after her plane went down in the Thames on a ferry flight. There were some reports that she was shot down by the British after she failed to give the correct radio contact codes.
You can visit Tracey's web site at: www.birdinabiplane.com for more information. Click on map below for full size map of her trip.