Following the photo of CF-TCC in NetLetter nr 1333, Jim Bruce has sent us more photos of CF-TCC at Air Canada, Maintenance & Overhaul Base, Dorval 1962.
They're all from the M&O Base at Dorval (inside and outside the huge hangar) and tie in with Alan Hunt being in charge of the restoration of the Lockheed 10A CF-TCC. Interesting to note that he rudder pedals shown in the instrument panel photo are labeled Cessna!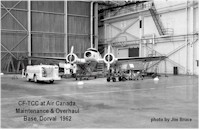 The ship looks so small in this vast hangar used to housing DC-8s, Super Connies, and Vanguards. In the view from behind TCC looking towards the open door, you can see a Vanguard tail in he background. In the exterior shot of TCC, the a/c in the background is of course a DC-8 both in front of the hangar.