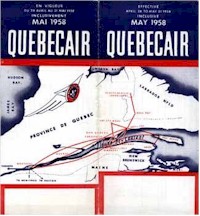 1964 - June - A fourth Convair (CF-CUY) sold to TOA Airways LTD, Tokyo, Japan following the 3rd Convair sold to TOA.
1958 - April - Timetable Quebecair from the private collection of David Zekria. (Pictured)
1983 - CPAir acquired the hotel operation of Canadian Pacific Enterprises Limited of Calgary.
---
Extracted from the "Canadian Pacific Airlines" newsletter issue dated January 1964.
In one of the largest group movements ever, 165 Canadian Pacific Pioneers (retired employees) flew from Vancouver to Honolulu January 21 and 22. It was organized by 82·year.old retired
railwayman Archie Sturrock who has taken 25 groups of Pioneers on trips since he retired 17 years ago.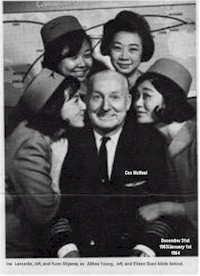 TWO NEW YEAR's EVES brought double kisses for DC-8 Captain Cec McNeal from stewardesses Ina Laesecke, left, and Kumi Miyama, as Althea Young, left, and Eileen Suen kibitz behind. Situation resulted from crew crossing Date Line on Dec. 31 Hong Kong - Vancouver flight. Photo was used to publicize Orient route, received wide coverage across Canada and overseas.
Issue dated March 1964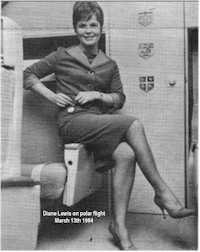 Legwork of stewardess Diane Lewis was measured by pedometer hanging at her waist during Vancouver - Amsterdam flight on March 13th. Measurement was made as part of a polar route promotion in Vancouver where Woodward's store's customers guessed how far a stewardess would walk on a polar flight. Winning answer: eight miles and 1,320 feet.
Issue dated May 1964.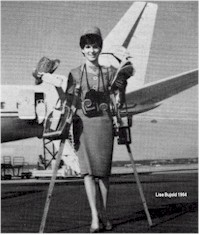 Crutches, cameras and some of the approximately 100 items left on CPA aircraft by passengers each month are displayed by Montreal stewardess Lise Bujold. Articles, ranging from guitars to baby bottles, are auctioned off each year in public auction houses in Vancouver.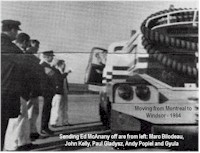 A Long Drive was involved in getting air starting unit or DC·8's from Montreal to Windsor when jet service started there recently.
Air engineer, Ed McAnany, leaving Dorval airport on 600 mile trip was given a send-off by, from left: Marc Bilodeau, John Kelly, Paul Gladysz, Andy Popiel and Gyula Lakatos
Issue dated June 1964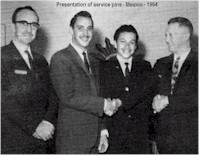 Service pins were presented by Jack McBride, left, Manager, CPA de Mexico, to Mexico City assistant traffic supervisor Julio Henriquez Ripoll, second from right, (5 years) and Alfonso Bravo Lopez (10 years). Looking on at right was Oscar Rodriquez, recently appointed as sales administrator.
---
Found in the "Rampage" magazine issue dated February 1989.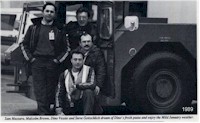 Sam Massara, Malcolm Brown, Dino Vessio and Steve Gonschlick dream of Dino's fresh pasta and enjoy them in mid-January weather.