Found in the "1946 Annual Report"

July 1st, 1946 service between Toronto and Chicago commenced
August 1st service between Toronto and Cleveland commenced.
Stops made at London on the Chicago and Cleveland routes.
September 16th service between Canadian Lakehead and Duluth commenced.
November 1st service between Victoria and Seattle commenced.
On September 15th the CGTAS Trans-Atlantic service was extended to London.

Aircraft equipment consisted of 27 Douglas DC-3's, 14 Lockheed Lodestar's and 9 Lockheed 14-08's./p>
---
Found in the "Communic Air" magazine issue undated.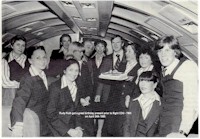 Rudy Roth got a great birthday present prior to flight CDG - YMX on April 24th, 1980. Mr. Jean-Pierre Juppe, airport manager (to Mr. Roth's right) showed up with a beautiful cake. Crew and friends gathered in cabin L for a short and pleasant break.
(Unfortunately, there are no other identifications - anybody? eds)
---
From the "Between Ourselves" magazine issued January 1962.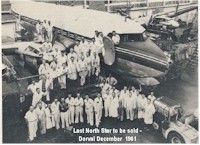 The last of the company's North Star fleet is shown being readied for delivery to World-Wide Airways Inc., Montreal. All 21 North Stars have now been sold and delivered.
Four went to World-Wide, 11 to Alfred John Gaul, London, England, 5 to Lineas Aereas S.A. (Lousa), Mexico City, including Fin 207 CF-TFG which, at one time, operated as the "Wings" cafe in Mexico city, and one to International Air Freighters Ltd of Edmonton. The first Canadian-built pressurized North Star was delivered to TCA October 1st, 1947 and the last was retired from service as an air freighter on June 30th, 1961.
Shown in the photo are some of the Maintenance and Overhaul employees at Dorval who readied the last aircraft for delivery, many of which worked on the first North Star when delivered in 1947.
---
From the "Horizons" magazine issue January 1980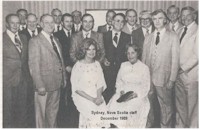 During December 1979, 88 staff members in Sydney, Nova Scotia gathered at a reception and dinner to honor 20 employees who achieved 25 or more years of service.
In our photo are the honoured guests seated from the left are: Rita Carmichael and Virginia Dowling; second row: Neil MacMullin, Cy Wagner, Frank Miller, Ken Gordon, Don MacAdam, Hugh McMullin and Cliff Lowrey.
Back row, from the left are: Doug Ivey, Roy Moffatt, Buff Doyle, Naish Batten. Gerry Mackeigan, Hubert MacKeigan, Len Morrison and Russ Steeves.
Missing from the photo are: Harper MacNeill, Reg MacDonald and Pat Holloran.
Issue dated September 30, 1974 saw the arrival of the Air Canada's first 727 in Montreal following a fast delivery flight from Seattle.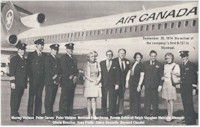 Shown in the photo were from the left: Captain Murray Wallace, S/O Supervisor Peter Carver. S/O Peter Wallace (son of Murray Wallace), Captain Norman Beauchamp: F/A Renata Schmidt, President Ralph Vaughan, Boeing President Malcolm Stamper, F/A Gloria Boucher, Chairman Yves Pratte, F/A Claire Gosselin and Purser Bernard Claudel.
---
From the "Rampage" magazine issue dated April 1989.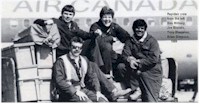 Rapidair crew from the left: Don Milbury, Joe Biondic, Tony Bhagaloo and Brian Simpson have a break on the choc-a-block Rapidair turns.