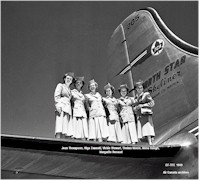 Brian Losito has sent us some photos from the TCA/Air Canada archives.
Here is the original photo of six stewardesses on the North Star tail CF-TFE fin #205 first appeared in "Between Ourselves" issued October 1949 and in NetLetter nr 1288 issue January 2014.
The names are from the left: Jean Thompson, Olga Zawaski, Vickie Stewart, Thelma Moore, Mona Gaugh and Margarite Renaud.