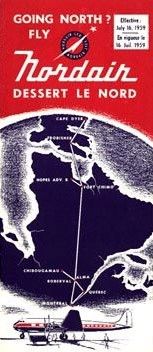 July 1959
Nordair Timetable from the private collection of Bjorn Larsson.
---
CPA's DC-8 fin 602 (Empress of Montreal) established a new non-stop record from Montreal to Rome on July 29th 1964 making the 4,107 mile flight in six hours 35 minutes. This eclipsed the record set in September 1962 by 13 minutes.
The crew consisted of Captain Ted Allan, First Officer G.M.Richardson, Second Officer Jim McInnis, Navigator Stan Raczlowski, Purser J.M Ory, Steward Leo Cahenzli and stewardesses K.D.Marti, M.Lefebre and Angela Herandez.
---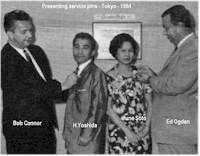 Receiving 10-year service pins were H.Yoshida, chief accountant Tokyo, and Miss June Soto, passenger agent, Tokyo.
Making the presentations were Japan Sales Manager Bob Connor, left and Far East regional manager, Ed Ogden, right.
---
Found in the "CPA Newsletter" magazine Issue dated June 1964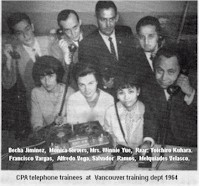 Busy Lines were the focus for these training telephones at the Vancouver training department when this Orient and Latin group spent a week on their customer service course. This was second of three groups who received training.
Front from left: Becha Jiminez, Lima CTO; Monica Sievers, Santiago CTO and Mrs. Winnie Yue, Hong Kong CTO.
Rear: Yoichiro Kuhara, Tokyo CTO; Francisco Vargas, Mexico Sales Representative; Alfredo Vega, Mexico Sales Representative; Salvador Ramos, Mexico CTO-Traffic and Melquiades Velasco.
---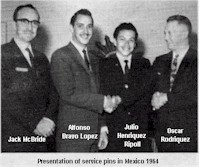 Service Pins were presented in 1964 in Mexico by Jack McBride (left), Manager CPA de Mexico, to Mexico City Assistant Traffic Supervisor Julio Henriquez Ripoll, second from right, (5 years) and lfonso Bravo Lopez (10 years). Looking on at right was Oscar Rodriquez, who had recently been appointed as Sales Administrator.