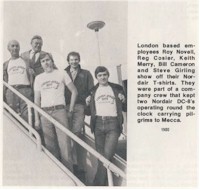 The heading was "London lads find pilgrim airlift a hot operation". The scene was unusual. The ice blue tail of a Nordair DC-8 stood out against a desert background. The ramp crew was wearing Air Canada coveralls. The accents were decidedly British. The passengers were dressed in white and each carried a kettle of water. These odd elements were cemented together by a contract signed in Montreal with Libyan Arab Airlines. All Muslims are expected to make a pilgrimage to the holy city of Mecca once in a lifetime.
London based employees Roy Novell; Certificated Aircraft Technician and Reg Cosier; Mechanic; recalled working the Saudi Arabian end of the operation while Keith Merry; Certificated Aircraft Technician, and Mechanics Bill Cameron, and Steve Girling recollected their three-week stint in Tripoli. They were part of the company crew that kept two Nordair DC-8's flying around the clock to give 15,000 pilgrims a round-trip to Mecca.
Air Canada had two roles to play in the annual pilgrimage. Even as the London workforce was deployed to Africa as a support team, the Maintenance base at Dorval was hard at work. The two DC-8's used on the service had to be in the best condition possible for the round-the-clock ten-hour round trips. And, of course, there had to be some identification on the airplane. The paint job was done in Montreal.
The Arabic script looked exotic and intriguing. ''What does it say," Reg asked when he first arrived. "God is great'?" "No,'' he was told, it was "Libyan Arab Airlines".
In this photo the London UK employees Roy Novell, Reg Cosier, Keith Merry, Bill Cameron and Steve Girling show off their Nordair T-shirts.