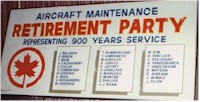 Ken Starnes has sent us a group of photos of the Aircraft Maintenance Retirement Party held at the Royal St. Lawrence Yacht Club in Dorval in 1983.
The following were the 29 retirees: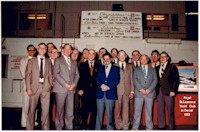 C. Abram, J. Balladuk, E. Benson, F. Brom, A. Cazadamont, G. Collin, C. Comerford, G. Conides, E. Drea, G. Giovannoni, M. Gresco, T. Humberstone, T. Humphreys, W. Hunkeler, R. Jarvis, R. Jeffrey, G. Langlais, D. Marleau, N. Muncer, G. Phillips, J. Pilon, J.J. Ryan, W. Sim, R. Sinclair, C. Solignac, A. Vanderbanc, T. VanStokkom, R. Watson, J. Wimble.
However, the accompanying photo shows only 16 unidentified people.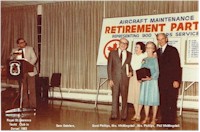 Another photo this time of Sam Gatelaro, Superintendent Boeing 747 and L1011 O/Haul; Gord Phillips, Foreman Sheet Metal Shop (Retiring), Mrs. Whittingstall, Mrs. Phillips and Phil Whittingstall General Superintendent Aircraft Maintenance.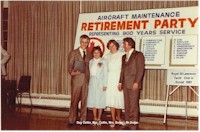 This photo of Guy Collin, Foreman Sheet Metal Shop (Retiring ), Mrs. Collin, Mrs. Doljar, Mr.Doljar, Superintendent DC-8 O/Haul, (Later in his career went to YWG to run the Aircraft maintenance operation)
Frank Pedder has sent us a couple of photos. Some of the 14 attendees at the P & S Dorval coffee group who met on February 4, 2016 at the Brasserie Le Manoir, Lachine, QC. We had a total of 14 at this meeting.
In this photo we have from left to right: Real Dufort, Alfred Bauer, Matt McAllister, Eric Pousseur, Bob Gagnon & Julian Ireland.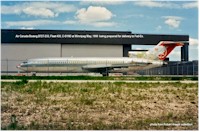 After reading the B-727 article in "Wayne's Wings" in NetLetter nr 1337, Robert Arnold sends us this photo of former Air Canada Boeing 727-233, Fleet 430, C-GYND.
I captured this unique photo while visiting the Air Canada Maintenance Base here in Winnipeg back in May 1990. This aircraft, like several other Air Canada 727's, was being prepared for delivery to Fed-Ex.
Note: Planespotters.net shows that this aircraft continued in service with Fedex until July 2011 and is now preserved at MIA and utilized by the Airport Fire Department...Wayne.