Oh Canada! – 01
The CC-150 Polaris used to transport the Canadian Prime Minister, Governor General and visiting members of the Royal Family certainly has a "colourful" and controversial history. It was originally one of the twelve Airbus 310's delivered to Wardair in 1988 under registration C-GBWD and was a part of Wardair's ambitious plan to compete on scheduled service with Air Canada the newly formed Canadian Airlines International.
When C.A.I.L. later acquired Wardair it was one of five aircraft sold to the Canadian Armed Forces with C.A.I.L. retaining a service contract for these aircraft. Now under registration 15001, it was outfitted for VIP service for then Prime Minister Brian Mulroney with strong opposition from future P.M. Jean Chrètien who would refuse to use this aircraft during his three terms in office. It was then deployed for military transport until returned to VIP service by Paul Martin after he succeeded Mr. Chrètien.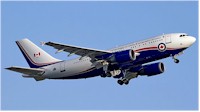 When Stephen Harper became Prime Minister he began to lobby around 2009 (as per CBC report) for the aircraft to be repainted from the dull military grey to a livery more reflective of Canada. This plan actually met with strong opposition from within the government and Department of Defense as an unnecessary use of public funds. However, Mr. Harper persisted and the aircraft was repainted in 2013 in the colours that we see Justin Trudeau descending the air stairs from on the News today.
This colour scheme, coincidentally, resembles the colours of the Conservative Party of Canada. Is there a another paint job in the near future?