Betty Draper sent us an article from the "Winnipeg Free Press" dated September 1939.
Airplane comes to grief. TCA Plane Damaged When Tire Bursts On Muddy Airport.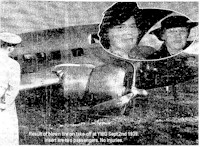 Swerving about 100 yards across the corner of the landing field, at Stevenson Airport when one of its tires blew out. A Trans-Canada Air Lines plane carrying 10 passengers and a crew of three, on the afternoon of September 2nd dug into the mud on the airport's north/south runway.
No one was injured and the passengers said they were not particularly disturbed by the mishap. They were taken downtown for lunch, then brought back to the airport, where they left for the west on a second aircraft.
The crew comprised of Captain H. Seagrim, First Officer E. Allen and Stewardess Miss G. Leslie. The aircraft had been running east down the runway preparatory to taking off at 3:25 p.m. when the tire blew out. The pilot cut across a corner of the field, near the junction of the east-west and north-south runways. The latter runway had recently been dug up and was muddy and soft from the morning rainfall. Striking the mud, the aircraft came to a stop and leaned over on it's right wing. According to officials, the right wing, three propeller blades and the right landing gear were damaged, but they said the damage was not serious and could be repaired at the TCA shop in Winnipeg.