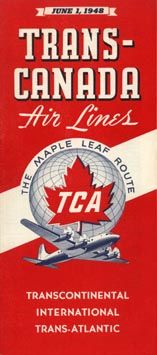 1946 - July 1st - Inauguration of service to Chicago from London, Toronto, Ottawa & Montreal utilizing DC-3 equipment.
1948 – June 1st - T.C.A. Timetable (pictured)
---
Found in the "Horizons" magazine Issue dated November 2008 (used with permission)
Montie Brewer with employees from the Air Canada Brazil's offices located in Sao Paulo and Rio de Janeiro.
(No identifications supplied - anyone help? - eds)
---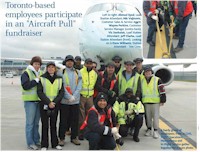 Toronto based employees from ACGHS, Flight Operations and In-Flight Service participate in an "Aircraft Pull" fundraiser.
On October 23rd, 2008 the Greater Toronto Airports Authority (GTAA) held an aircraft pull and raised ca$8,000 for United Way. Competing against 13 other airport teams, Team Canada clocked a time of 6.65 seconds and finished in fourth place. To support this fun community event, Air Canada had donated the use of an Embraer 190.
---
Found in the "Between Ourselves" magazine issued May 1965.
One of the biggest Company parties was held April 2 at the famous Pre Catelan Restaurant, Paris to help introduce the Sales Promotion of ''CANADA 871 -- EUROPE 870''. Four hundred guests attended and from the complements heard following the event it was quite impressive.
This was the scene in the front garden of the Pre Catelan Restaurant prior to the arrival of the guests. The display, both outside and inside the restaurant was the work of the Advertising Department.
The hostesses for the event were, from the left: Sonja Avra, Alberta Hubert, Loiuse Asselin and Liane Smith, all from Montreal.
---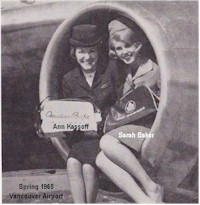 COOPERATION - Close cooperation between the company and Canadian Pacific Air Lines was typified by stewardesses Ann Kassoff, left of Air Canada, and Sarah Baker, CPA, as they exchange flight bags at Vancouver Airport in the spring of 1965. The pose in a DC-8 jet engine was arranged by the photographer - this is not the usual way the flight attendants travel.
---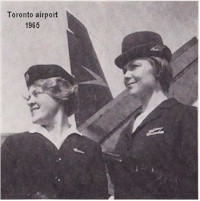 Symbolizing the COOPERATION which existed between BOAC and Air Canada, stewardesses Jill Kirkup of BOAC and Gizela Schaldach of Air Canada are shown together at Toronto Airport. The pooling arrangement between the two companies had recently been renewed for a further five year period.