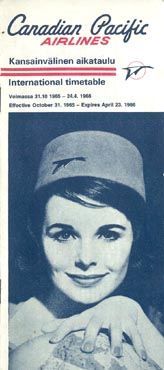 1965 - October - Timetable for Canadian Pacific Airlines from the private collection of Bjorn Larsson. (pictured)
1990 - Dec 12th - Service between Vancouver-Taipai-Hong Kong commenced.
1991 - April 12th - First A320 Airbus delivered.
---
Found in the "INFO:CARGO" magazine issue date January 1991.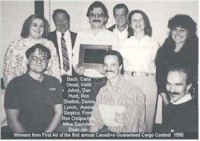 Victoria divisional GAD winners, was the first partner station (First Air) to win the annual Guaranteed Cargo Contest. In this photo we have:
Back row from the left:
Carla Unser, Cargo Agent; Keith Johns, Cargo Sales and Service Manager; Dan Hunt, Cargo Lead Agent; Ron Shelton, P & D Operator; Donna Lynch, Customer Service Manager; Aurora Serptco, Cargo Agent.
Front row from left: Ron Ostipochuk, Mike Saunders and Brian Jan, Cargo Agents.
---
Issue date May 1991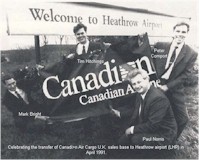 This heading "We've arrived"., accompanied this photo to celebrate the transfer of Canadi>n Air Cargo U.K. sales base to Heathrow airport (LHR) at the beginning of April 1991.
From the left: Mark Bright, Manager Cargo Sales and Service, London; Tim Hitchings, Cargo Sales Representative; Paul Norris, Regional Manager Cargo Sales & Service, Europe; Peter Comport, Cargo Sales Representative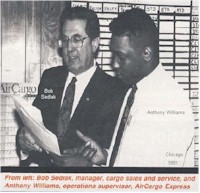 The routine rarely varied. Each night at 20:30 hrs CP729 departed Chicago arriving the next morning at 10:00 hrs plus one at Toronto's air cargo terminal. The sleek 44-foot cruiser carries only one passenger and the rest is cargo. "Most customers don't even know that CP729 is not an airplane but semi-trailer truck." Here we have the photo of the lone "passenger".
On the right is Bob Sedlak, Manager, Cargo Sales and Service with Anthony Williams, Operations Manager, Air Cargo Express.
---
From the "CP AirNews" magazine issue dated Mid July 1984.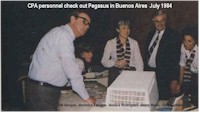 The Pegasus System was introduced to Lima on July 16th, Santiago July 25th and July 30th at Buenos Aires.
In this photo, we have the new Pegasus equipment being inspected in the Buenos Aires ticket office, form the left: Bill Morgan, Assistant Manager; Veronica Lavigne, Ticket Agent; Monica Rodriguez, Ticket Agent; Jimmy Rush, Supervisor; and Eida Barbieri, Ticket Agent.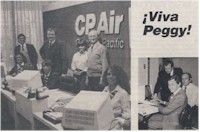 In Santiago, here are the staff checking out the Pegasus System.
From the left standing: Pablo Lorca, Cargo Agent; Francisco Briones, Reservations CTO Supervisor;Antonieta San Martin, Time-payment Plan Clerk; and Ian Williamson, Reservations Sales Agent.
Seated are: Cecilia Lanas, Passenger Agent; Elena Zenteno, Passenger Agent; and Veronica Gomez, Senior Passenger Agent.
On the right side of the photo we have Marcelo Parreil, Sales Representative; and Raul Cifuentes, Cargo Manager with Francisco Briores.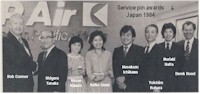 Seven Tokyo employees receive service pins in a ceremony when Bob Connor (left) Regional Vice President, Pacific/Latin America visited Japan.
In the photo from the left:
Shigero Tanaka, Customer Service Supervisor, cargo, 25 years; Masae Kimura, Reservations Sales Agent, 15 years; Reiko Izumi, Reservations Sales Agent, 5 years; Masakazu Ichikawa, 5 years; Yoichiro Kuhara, Reservations Sales Supervisor, 25 years; Noriaki Hatta, Passenger Sales Representative, 15 years and Derek Hood, Director, Japan/Korea.
Also, but missing the photo op, was Toshio Makayama, passenger agent who received a 15 year pin.