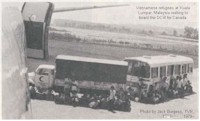 In August 1979, the company signed a charter contract with the Canadian Government to supply a DC-8 and crew plus the necessary ground crews to transport Vietnamese refugees from Kuala Lumpar, Malaysia to Edmonton and Montreal during the period September 29 to November 28th 1979.
It was not an ordinary DC-8 charter operation and to many employees, especially the flight crews and ground support staff involved, doors were opened to new experiences and new relationships as they became exposed to the contrasts of the exotic Far East.
At the completion of this charter, another charter contract was signed to cover four flights to Singapore and three to Bangkok commencing in January 1980.

In our photo, a group of refugees seeks shelter from the hot sun at Kuala Lumpar while waiting to board the company charter flight to Canada. The photo was taken by Jack Burgess, Aircraft Maintenance Foreman, Vancouver.
(Does anyone involved wish to share any memories or photos? – eds)