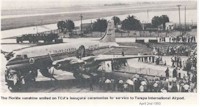 1940 - February 15th - Scheduled service between Moncton and Montreal commenced.
1950 - April 1st - Service inaugurated between Montreal - New York and on April 2nd - Service inaugurated between Montreal - Tampa. (top photo)
2008 – December 14th - Launch of daily B-777 daily non-stop service between Canada and Sydney, Australia.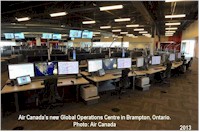 2013- (August 20) - Air Canada August 20th 2013 opens state-of-the-art Global Operations Centre in Brampton Ontario.
---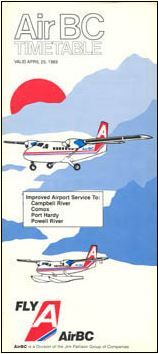 AirBC timetable from the collection of David Zekria.
---
Extracted from the "Between Ourselves" magazine issued July/August 1960.
Daily return Viscount service inaugurated between Yarmouth, NS and Boston during June 1960.
Toronto - Chicago Viscount service operated in both O'Hare and Midway airports.
---
TCA flight 303 on June 15th,1960 was the first flight to operate out of Ottawa's $55 million new airport terminal. The Toronto bound Viscount, shown in the photo is in front of the new building, arriving were the first 40 passengers from the new facilities at Uplands Airport. This was the TCA's 7,747th day of operation out of Uplands Airport. Ottawa has been included on the Company's route map since April 1st., 1939.
---
From the Presidents column -
On May 27th., 1960, DC-8 fin 803 CF-TJC piloted by Captain Robert M. Smith and Captain G.B.Lothian to establish a record crossing on a pre-inaugural flight from Montreal to London, England. In doing so, they covered the distance of 3,247.3 statute miles in five hours forty-four minutes, forty-two seconds.
At an average speed of 909.75 kilometers or 565.3 stature MPH. Part of the record covered the Ottawa to London, England segment at 3,344.1 miles in five hours fifty-five minutes and twenty-two seconds averaging 905.9 kilometers or 562.9 statute MPH.
Airlines other than TCA have found that revenue passengers do not enjoy taking part in a flight attempting to break a record. Having paid their money, the passengers feel the airline is not entitled to indulge in anything associated with the word "Sportif". Therefore that is why it is extremely unlikely that any scheduled revenue flight will ever establish an "official record".
This difficulty does not apply to pre-inaugurals, as the Federation Aeronautique Internationale (F.A.I.) is contacted in advance, and FAI observers are included on such flights. Any records thus established under authorized supervision, will be officially observed and recorded.
---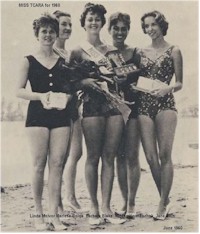 MISS TCARA for 1960, Barbara Blake of General Sales is shown with the four other beauties who competed for the title at the Montreal Picnic during June 1960.
On the left: Linda McIvor, who was first runner-up and next to her is Marlese Solga of Purchasing & Supply.
On the extreme right is Jane Ellis of Reservations Records who was chosen second runner-up, and, on her right is Natalle Hermanchuk, also of Purchasing & Supply.
---
Located in the "Horizons" magazine issued February 2008 (used with permission)
Humanitarian mission in Peru.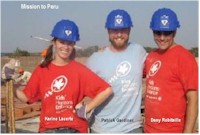 In cooperation with the Quebec Breakfast Club – Project Sismik, two Air Canada and one Jazz employee went with the group of young people to lend a hand and make a difference in the Peruvian community. Air Canada offered them paid leave with benefits as per their regular working hours, without affecting their annual vacation – a great opportunity. During their stay in Peru, their transportation costs (including the return flight from Canada to Peru), accommodation, food, and other miscellaneous costs incurred in the journey were all paid by Air Canada Kids' Horizons and the program organizers – The Quebec Breakfast Club.
In our photo we have (L-R) Karine Lacerte, Operational Research Analyst in Dorval; Patrick Gardiner, Lead Station Attendant in Whitehorse, and Dany Robitaille, Air Canada Jazz Pilot.
---
Go Raptors Go!
In January, a group of Customer Service employees enjoyed a night out at a Toronto Raptors basketball game.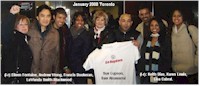 Pictured (L-R): Eileen Fontaine, Customer Service Manager;Andrew Wong, Customer Sales and Service Agent; Francis Dookeran, Customer Sales and Service Agent; LaWanda Smith-Blackwood, Customer Service Manager; Sue Lupson, Customer Service Manager; Sam Alsamarrai, Customer Sales and Service Agent; Keith Dias, Customer Service Manager; Karen Lewis, Customer Sales and Service Agent; Lisa Cabral, Customer Sales and Service Agent