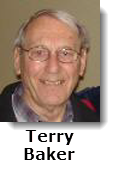 UK finance minister George Osborne has signaled a further rise in Air Passenger Duty (APD) in his annual budget speech. APD is charged on most passengers on flight departing from UK airports.
It is one of the highest rates of passenger taxes in the world and can add as much as £146 ($206) to the price of a ticket, depending on the class of cabin chosen and the distance flown by the passenger.
---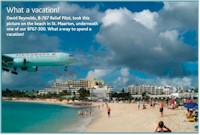 David Reynolds had this photo printed in "Horizons" February 2008 (with permission).
---

The Interline Club of Portugal will host the 29th Passarola Golf Cup at Vilamoura on Portugal's Algarve region. October 25th thru 29th 2016. The Golf Event has no deadline date posted at this time, but this is a popular event so book early. €492. Full details at www.waca.org
---
The Jordan Adventure 2016 a WACA International event being hosted by the Jordan Interline Club from May 29th thru June 3rd 2016. Deadline April 28th 2016 cost $900 USD. Full details at www.waca.org.
---
Airline Club Bahamas present their first annual "Island Dreamz" in Treasure Cay, Abaco from July 14th - 18th, 2016. Deadline April 15th 2016 cost $700 USD. Full details at www.waca.org
---
The Interline Club of Israel is pleased to invite all Interline club members to visit Israel in spring time and enjoy their "Spring Holy Land Tour" from June 3rd thru 9th 2016. Stay in Jerusalem & Tel Aviv. Visit Jerusalem Old & New city, Masada, Dead Sea, Nazareth, the Sea of Galilee & many other sites. Full details www.waca.org