Ken Starnes has sent us a group of photos of the Aircraft Maintenance Retirement Party held at the Royal St. Lawrence Yacht Club in Dorval in 1983 which appeared in NetLetter nr 1338 etc, here are some more –
In this photo from the left Phil Whittingstall, Mrs. Humberstone, Tom Humberstone (retiree ex foreman sheet metal aircraft maintenance).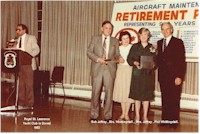 Here we have Bob Jeffrey (retiree ex aircraft maintenance foreman), Mrs. Whittingstall, Mrs. Jeffrey, Phil Whittingstall.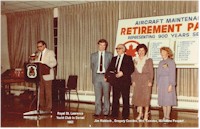 And Jim Riddoch, Gregory Conides (retiree ex aircraft maintenance foreman), Mrs. Conides, Micheline Poupart.
---
Balance of the photos sent to Jack Stephens by Don Heron. Others are in NetLetter nr 1339 and 1340.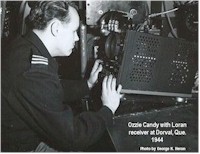 This photo is of Ossie Candy (ham radio operator VE7KZ and CGTAS) with a Loran receiver in the radio shop at Dorval in 1944.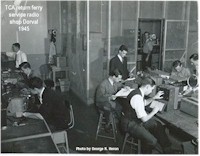 Here is the TCA return ferry service radio shop at Dorval in 1945. George K. Heron designed the shielded room in the background, used for testing transmitters and automatic direction finding (ADF) equipment.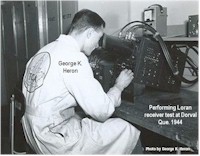 George K. Heron is shown performing a Loran (Long range air navigation) receiver test in the return ferry service shop at Dorval in 1944.
This particular photo is on page 235 of "National Treasure, History of Trans Canada Airlines" by Peter Piggott, but did not identify George and listed the date as, erroneously, 1945.
---