Airbus A319 - Fin 264 - Cool Paint Job
Terry compiles the NetLetter content and then sends it to me to be formatted for the web. I look forward to the seeing the Reader Feedback and Submitted Photos. We all particularly enjoy it when we are able to bring back a fond memory for someone.
For this issue, Sylvia Kellner's submitted photos of the plaque of Fin # 264 and the accompanying letter sent to all Air Canada employees for our 60th anniversary in 1997 tweaked some memories for me.
I remember thinking that the A319 painted in TCA colours was the coolest livery I had ever seen on one of our aircraft. I was so impressed that I wrote to the company photographer, Brian Losito, requesting a copy of the photograph used for the plaque. I still have both the plaque and the photograph (scanned copy included here).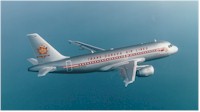 I even remember that for one of my many trips to Montreal I specifically listed on a flight it was assigned to (through Toronto) just to have a ride on it.
I was surprised to realize that it has been almost twenty years since the Airbus A319 fleet has entered service. It has certainly been a versatile fleet during its career. Current fleet counts differ between the Air Canada site and Planespotters.net. The transfer of aircraft from the mainline to the rouge fleet is still in process..
It looks like a total of 48 aircraft had been delivered with 38 still in service in AC mainline, rouge and Jetz configuration.
As far as I can see, Fin # 264 is still with the mainline fleet in TCA colours.
Do you have any specific aircraft that brings back a memory for you? Let us know and we'll try to track it down for you.