"Flying billboards" to spread the word for Expo 86...
Within the next few months the B-747 "Empress of Canada" will be joined by DC-10-30 "Empress of British Columbia", DC-10-10 "Empress of Expo" and B-737-200 "Empress of Vancouver", all being painted in Expo livery.
Together the four aircraft will fly CP Air's international, trans-continental and trans-border routes commencing June 1st 1984.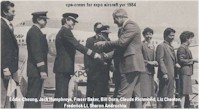 A team of pilots and flight attendants received Expo 86 pins from Minister of Tourism 86, Claude Richmond, on behalf of their in-flight colleagues who will be CP Air's regular Expo ambassadors across the airline's five continental route system.
In the photo, from the left: Eddie Cheung, PSD; Jack Humphreys, First Officer B-747; Fraser Baker, assistant chief pilot B-737; Bill Durn, chief pilot B-747; Honourable Claude Richmond; and flight attendants Liz Chaston, Frederick Li and Sharon Andruchiw.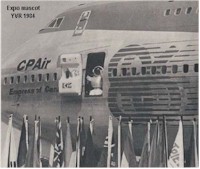 The EXPO MASCOT is framed in the door of the "Empress of Canada".