Lockheed L-1011 - TriStar
The Lockheed L-1011- 1 /15/150 series was added to the Air Canada wide body fleet in the summer of 1973 to serve routes where less capacity than the B-747 was needed. A total of 12 aircraft in this series flew in Air Canada livery bearing fin numbers 501 to 512 (see NL 1326 for my article on the -500 series).
Powered by three Rolls-Royce RB-211-22B engines they were considered to be high maintenance aircraft and are rumoured to have paid off several mortgages of aircraft technicians. I do seem to recall frequent engine changes on this fleet from my early days in Toronto Stores.
Two of the aircraft (Fins 501 and 503) were leased from Haas Turner Corporation and alternated between Air Canada in the summer and Eastern Airlines in the winter for several years. David Varnes, Secretary Treasurer for IAM Lodge 764 in Richmond B.C., has written a very detailed article that features the history of these two aircraft. Click here to read David's article beginning on page 3 of the December 2013 issue of the Snag Sheet.
After leaving the Air Canada fleet in the early nineties all of the aircraft were leased to other airlines, usually for charter service. I count seven that flew for Air Transat, two for Royal Airlines (now defunct), two for Gulf Air and one for Cathay Pacific. Click here for my list.
All but two have now been broken up. Fin # 501 (C-FTNA) was leased by Air Transat in June 1988, subleased to Air France in June 1989 and then returned to Air Transat in February 1991 where it remained until July 6, 2001 when it was damaged beyond repair after being hit by a hailstorm on takeoff at LYS. Visit Aviation Safety Network for the complete report on the incident. The aircraft is now preserved at Lyon–Saint-Exupéry Airport. (View at Airliners.net).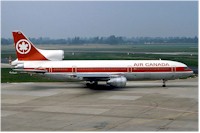 The most interesting fate of an aircraft from this fleet is certainly Fin # 510 (C-FTNJ) (pictured). It was parked by Air Canada at Marana, Arizona in November 1990 and then pulled out of storage by Orbital Sciences Corporation in May 1992. It was then registered as N140SC, renamed "Stargazer" and modified to launch Pegasus rockets (View Wikipedia page).