1947 - April 1st - Inaugural daily service with DC-3 equipment between Halifax and Boston. One flight via Saint John (Pennfield Ridge airport) the other via Yarmouth and Pennfield Ridge.
April 15th - North Star service inaugurated between Montreal and London, England via Goose Bay.
1958 - Dec 16th - Antigua added to the airline system for the winter season until April 15th 1959.
2004 During February service from Halifax was inaugurated to Punta Cana (7th), Orlando (7th), Cancun (8th) Montego Bay (9th), Varadero, Cayo Coco (13th) and Barbados on the 14th. Moncton inaugurated service to Holguin (11th) and Punta Cuna on the 13th.
---
Extracted from the "Between Ourselves" magazine issue dated April 1955.
A new all-airline traffic employees club was formed in Vancouver April 1955.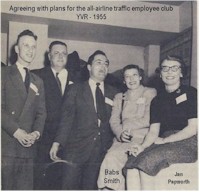 Big ideas and small talk joined forces and led to the forming of more than 125 enthusiastic employees from various airlines operating out of Vancouver. The club was the brain child of Bud Walker of QANTAS who solicited the help of TCA's Bruce Hay and Sam McRae to aid in laying the groundwork during a meeting at the Hotel Vancouver.
The people in this photo, agreeing with plans, are from the left: Bill Murphy, CPA; Harold Collie, CPA; Harold Tompsett, BOAC; Babs Smith and Jan Papworth, both of TCA.
(Did this club get off the ground? - eds)
---
Issue dated February 1967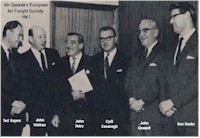 FIRST MEMBER - John B. Petry, Cargo Sales Manager, London, UK became the first Charter Member of Air Canada's European Air Freight Society when he was presented with a certificate honouring him for his outstanding achievements in the promotion and development of air freight to and from the United Kingdom and Europe.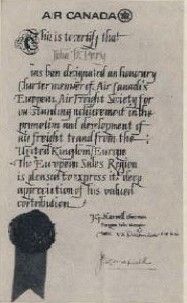 Shown at the reception following the presentation from the left: Ted Sayers, Cargo Sales Representative; John Wotton, District Commercial Manager; John Petry; Cyril Cavanagh, Cargo Sales Representative; John Maxwell, European Sales Manager and Chairman of the society, who made the presentation, and Ken Banks, Cargo Sales Representative.
The photo at right is of the first certificate presented to John Petry, Cargo Sales Manager, LHR.
(We, at the NetLetter, are unable to locate this society - eds)
---
Found in the "New Horizons" magazine (used with permission) issued January 2004

2003 - December - Order placed for 30 Bombardier CRJ-705, 15 Bombardier CRJ-200 and 45 Embraer 190 aircraft.
While some parts of Canada were basking in warm temperatures, airports in eastern Canada and eastern U.S. struggled with extremely cold temperatures and storms.
Pictured here are Pierre Lauzon, Christopher Lichocki and Silvano Borzacchini, all from Montreal, dressed to weather the elements.
Issue dated February 2004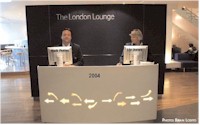 Here we have a photo of Mark Potter and Liz Jones Customer Service Agents in the London (LHR) Maple Leaf lounge preparing to welcome customers.
May 2003, saw the introduction of 6 categories of fares Tango, Fun, Econo, Latitude, Freedom and Executive Class. All available on the web site www.aircanada.com.